I am all about easy budgeting tips that make saving money simple and effortless. And, I know this is something a lot of families need right now especially during this crisis. My practical savings tips can be put into action right away to help you stretch your budget and make your dollars go further.
I recently shared these tips with ABC10 Your California Life, which you can watch by clicking the image below. Otherwise, check out the tips I outlined below to start saving big bucks!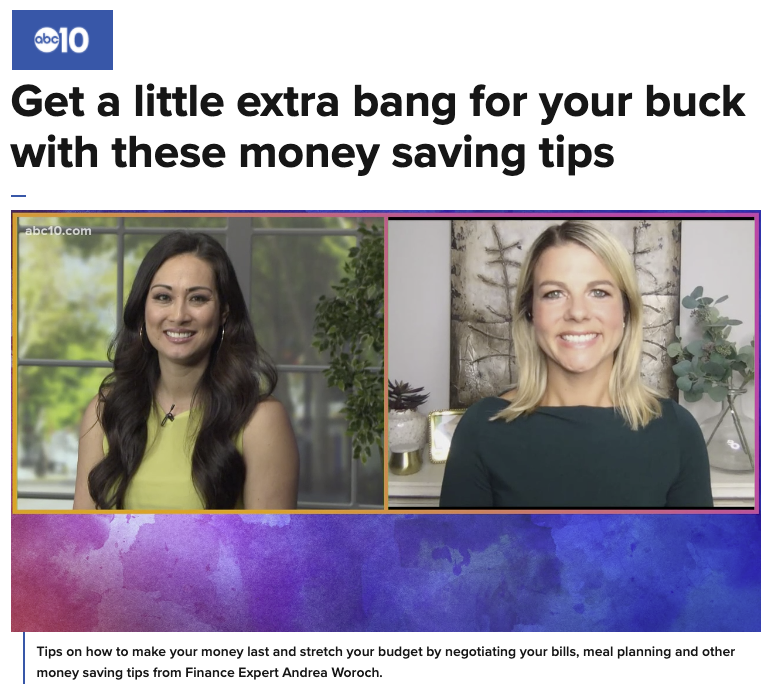 6 Easy Budgeting Tips for Stressed Out Families
A staggering 51.3 million Americans have filed for unemployment over the past 17 weeks during the pandemic. With so many uncertainties out there, finding new ways to save money is more important than ever. Even if you haven't lost your job, you may feel stressed out about the potential of that happening or may be looking for opportunities to save more money around your home and on essential purchases. The good news is, saving money is doesn't have to be complicated. I have outlined some easy budget tips to help you stretch your dollars and clean up your budget.
Just follow my tips below to get more from your money!
Negotiate your bills.
Call your cable and Internet providers to inquire about lowering your bill without changing your service—maybe you qualify for a new promotion or can get a discount for autopay and e-billing. Shop around for homeowners and auto insurance and increase your deductible to lower your monthly cost. There are even services that can help negotiate your bills for you like Bill Fixers.
Meal plan to save on groceries.
Plan your meals for the week and use overlapping ingredients to reduce food waste. This ensures you use every ingredient you buy in its entirety . Another idea is to cook in bulk and freeze leftovers so you have individual meals that are quick to reheat. This helps you avoid the temptation to order take out when you just don't feel like cooking. These easy budgeting tips in your kitchen can result in big savings!
You can even cash back by uploading pictures of your grocery store receipts to the Fetch Rewards app and start earning free gift cards to stores like Walmart and Amazon. Don't forget, enter code EASY BUDGET to earn an extra 3,000 points off the bat!
Buy refurbished over new.
According to the National Retail Federation, parents are will spend approximately 30% more on tech like laptops for school. Although these personal gadgets are expensive, you can save hundreds of dollars by purchasing refurbished models. Make sure they are pre-certified and come with a warranty to give you peace of mind. For other household essentials, such as small kitchen appliances or even tools, always look for second hand options through local listings. There are plenty of options out there that cost less than buying brand new.
Swap instead of shop.
Another great way to save on those items you need to buy like clothes for your growing kids is to set up a swap with families in your neighborhood. You can even do this online. The Swoondle Society is an online member marketplace for trading fashionable children's clothing and accessories. For as little as $5, they will send you a prepaid and reusable shipping bag that you fill with gently used items. Once they source through everything you sent, you can begin trading up clothing in your kid's new sizes.
Take on a side hustle.
If you are out of work or looking to supplement your income, my easy budgeting tips can help. But, you should also look for a side hustles you can do from home. For instance, tutor virtually through VarsityTutors.com or teach cooking and music lessons at LessonFace.com. Sites like Rover.com connect you with pet parents looking for responsible care for their canines. You can easily rake in up to $1,000 a month just by opening your home to new furry friends.
Make money from surveys.
You can earn free money online effortlessly–all you need is a computer or mobile device and a WiFi connection. Check out Survey Junkie. It's a site that provides money-making surveys that can take anywhere from 1 to 20 minutes. The amount of money you earn is based on the length of the survey. Most are mindless so you can take a lot of surveys while binge-watching your favorite Netflix shows!
Save for the things that matter
Without giving up the things you love
Want your family's financial future to feel safe and secure? Download my Easy Family Budget Worksheet and take control of your family's finances in just 10 minutes!