With more than 50% of schools across the country going remote and requiring kids to learn virtually, parents are facing bigger shopping bills and are looking for easy back to school savings. In fact, studies show that 51% of parents will be spending more on online tutoring and online education courses and the National Retail Federation estimates that families will dish out 30% more on electronics like laptops, tablets and headphones compared to last year. Some will also need to buy new furniture like desks to create an at-home learning space for their kids, adding even more to the overall spending.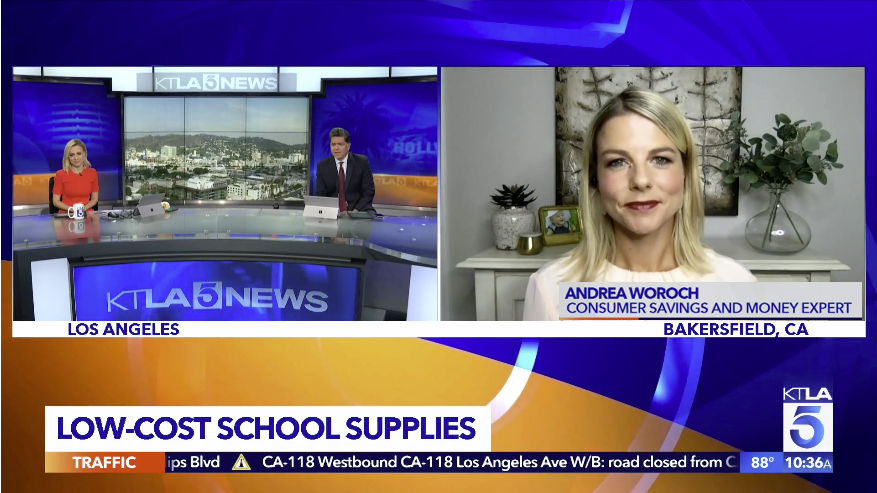 Andrea spoke with KTLA Morning News about back to school shopping, sharing her top tips for finding low to no-cost supplies. You can watch her recent segment here (or click on the image below). Also, check out her top tips for saving on school essentials below.
7 Ways to Save School Supplies for Distance-Learning
If you're looking for easy back to school savings, use my top shopping tips below.
Shop at home and use leftover school supplies from last year.
Maximize cash back by reviewing your credit card offers and shop strategically. You can even cash back by taking pictures of your receipts with the Fetch Rewards app. Use code EASY BUDGET to get an extra 3,000 points when you sign up!
Set up a school supply and clothing swap through Facebook or trade up clothing at Swoondle Society.
Take advantage of free resources via Khan Academy, Audible and EveryoneOn.org.
Sell unwanted items online that you no longer need to pay for those school supplies.
Save on personal gadgets for virtual learning like laptops, computers, tablets and headphone by looking for refurbished options at sites like Newegg, Dell Outlet and Best Buy.
Wait to shop. Some of the best deals will be released in late September and you can find better deals on fall clothing in October.
Save for the things that matter
Without giving up the things you love
Want your family's financial future to feel safe and secure? Download my Easy Family Budget Worksheet and take control of your family's finances in just 10 minutes!