I'm all about saving money. In fact, I never pay for anything without searching for a coupon, comparing prices or haggling first. But, I don't just focus my bargain hunting efforts on saving money–I also look for ways to make money when I shop, too. That's right, there are several easy ways you can make money every time you spend money.
Below, I've shared 3 strategic tips for maximizing your cash earning potential when you shop. So, read on to get started!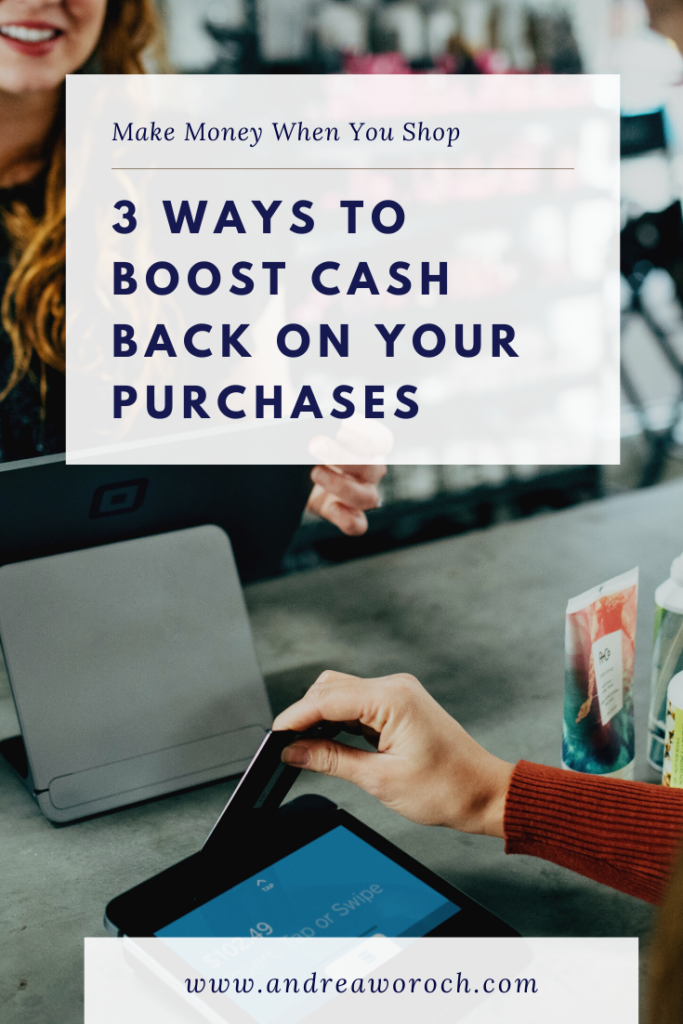 Use a cash back card and opt in for bonus rewards.
Using a credit card that offers cash back is a great way to earn something back on all the purchases you are making anyway. However, maximizing your cash back takes a bit of planning.
Depending on the credit card, you may be able to earn extra cash back on different product categories, stores or restaurants. Many credit cards offer bonus cash back offers that rotate each month or quarter. Such categories can include groceries, gas, dining, travel, online purchases and others. You may even have the option to choose which category you earn extra cash back for. This is a nice perk since you can adjust it ahead of a big purchase to boost your rewards. Just don't assume you automatically qualify for these cash bonuses. In many cases, you have to opt in by signing in to your online account. Always check promotional emails from your credit card or bank and view your reward account to make sure you're registered.
If you're looking for a new rewards credit card, review CardRates.com for a list of cash back offers. You can even snag a big cash reward for signing up and meeting the minimum spending requirement as I explain here.
Scan your receipts.
Double down on your cash back earning by using your cash back credit card while also scanning your receipts via Fetch Rewards. This free cash back shopping app rewards you with points for all your purchases which you then redeem for free gift cards. Just snap a picture of your various receipts and upload them to your account to start earning money back on your purchases.
Primarily focused on groceries, this app has also recently expanded to offer cash back on purchases made at other retailers and even restaurants. When it comes to grocery stores, the amount of points you earn is based on the products you buy. For other stores and dining spots, you get 5 points for every receipt you upload to your account. You can even link your email to your account to automatically earn points for online purchases. Once you accumulate enough points, you can redeem them for free gift cards to popular stores and restaurants like Walmart, Amazon or Starbucks. Download the app and enter code EASYBUDGET to get an extra 3,000 points right now!
Show your loyalty.
Now that you're using a cash back credit card and scanning receipts to earn cash back on your purchases, you can triple up on rewards by being loyal. Just sign up for any retail loyalty programs!
Most retailers these days offer free loyalty programs that reward repeat customers with special perks, exclusive coupons and even cash bonuses that can be applied toward future purchases. If you aren't signing up and taking advantage of these programs, you are leaving money on the table. It may seem like a hassle, but most times it's fairly simple. Some stores allow you to sign up instantly at check out or through their mobile app or website. Once you find a loyalty program you love, always check to see if that specific retailer has the best deal on a product you want to buy. Or, ask if they will price match. Ideally, you want to buy more from that one store to maximize your rewards. You and your partner or kids can even share the same account to accumulate loyalty points and cash bonuses faster.
Check out this list from Business Insider on the best loyalty programs worth signing up for.
By using these three shopping strategies together, you will boost your cash back earnings and make even more money on all your purchases.
Save for the things that matter
Without giving up the things you love
Want your family's financial future to feel safe and secure? Download my Easy Family Budget Worksheet and take control of your family's finances in just 10 minutes!