Are you starting to feel the strain of holiday stress? As soon as Halloween ends, stores start their seasonal shopping blitz leaving barely a second for consumers to build holiday budgets. The impact is far reaching, with a Credit Karma survey finding 82 percent of people get stressed out by holiday spending. While you might think this would cause shoppers to shut down, the added anxiety can actually lead to more impulse purchases of everything from clothes to tattoos. Unfortunately, the financial repercussions of such poor shopping habits only adds to the mounting stress people feel this time of year. Luckily, you can break the holiday stress spending cycle to enjoy a more relaxed season with family and friends just by following these 8 tips.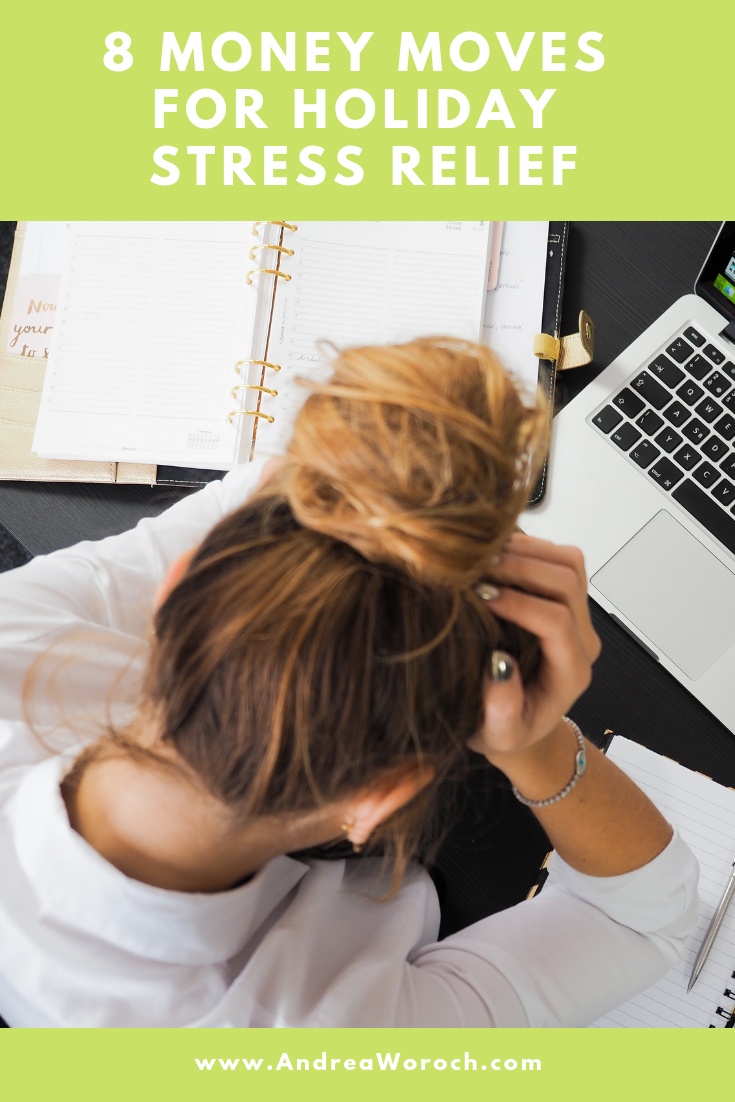 Set Expectations Early
One of the great things about the holiday season is we put ourselves aside and focus on others. However, this generosity can often lead us to overextend financially. Don't be afraid to talk with friends and family to set clear gifting expectations. Instead of shopping for every member of the family, set up a secret santa gift exchange to focus on giving something especially thoughtful to one particular person. While the latest gadget might seem like the perfect gift, meaningful time spent together likely has a longer-lasting impact on those most important to you.
Clean House
With the focus so intensely on shopping this time of year, it's easy to lose sight of what you already have. To boost your holiday budget, consider what has been collecting dust on your own shelves. Unused phones, tablets, clothes, jewelry and even video games can become quick cash to help cover holiday gifts and other seasonal expenses. Head to a local consignment shop or post items for sale via online marketplaces such as Facebook to turn your clutter into disposable income. This is also a good time to go through holiday decor and hostessing items so you know what you have and don't end up wasting money by purchasing duplicates.
Resist Extra Offers
A go-to marketing tactic around the holidays is offering an extra incentive with your purchase. Sure, a bonus $10 credit with a $50 gift card sounds like a good deal, but if it's for a restaurant you only eat at once a year, you've just tied up a good chunk of change you could be using elsewhere. Shut out as much of the noise as possible by unsubscribing from newsletters or turning off push notifications that may tempt you to spend. If you are planning to shop during busy holiday sales events, make sure you understand the details of any promotional items or doorbusters. Not everything is as good of a deal that stores want you to believe they are. Study this guide on everything you need to know about Black Friday to avoid buyer's remorse and avoid blowing your budget on bunch of junk.
Cash is King
With all of the digital payment options available these days, cash has become a forgotten commodity. The downside to the added convenience of a single swipe is that it becomes easy to lose sight of the actual value. Before you know it, an extra $50 here or there becomes a seemingly insurmountable mountain of credit card debt come January. As you head to the stores, consider keeping large bills as your only payment option. Not only does this force you to consider the actual value as it leaves your hand, you're also less likely to break large bills for smaller impulse purchases.
Use Your Value
Everyone has an underlying skill others are envious of. In this gift-giving season, look to yourself and spread that wealth with those around you. Whether your calligraphy skills are on-point for custom Christmas cards, have a knack for taking beautiful holiday family photos with your premium camera or you can assemble IKEA furniture in the blink of an eye, you have something to offer that will be significantly more appreciated than anything store bought.
Flexible Schedules
It's not hard to guess the busiest travel times of the year: Thanksgiving, Christmas and New Year's. Even if you book your travel well in advance, prices are almost always sky high on the days leading up to these important holidays. One way to beat the stress of both the crazy crowds and high prices is to travel on the actual holiday. It offers the best of both worlds by saving money and still allowing time with friends and family.
Celebrate at Home
Keeping up with constant parties and events can be exhausting physically and financially. Tame your holiday FOMO by inviting friends over for a potluck instead of going out for expensive meals and drinks. Odds are you're not the only one feeling the financial pressure, and others will welcome the relief. A "Friendsgiving" provides a more intimate setting and gives everyone a chance to show off and share their signature dishes.
Money Making Opportunities
Rest and relaxation is often at the top of the list for the holiday season, but if you're willing to put in a little extra side hustle it can pay serious dividends. With so many people out of town, prices for house sitting and pet sitting are at a premium. Sites like Rover will help you connect with pet owners whose puppies need attention, or you can collect some extra cash by putting your place on Airbnb while out of town. Meanwhile, you can also bring in extra cash by hauling people around to various holiday parties as a rideshare driver. There's even the option to double-dip with a seasonal retail job that offers extra income as well as an in-store discount.
Save for the things that matter
Without giving up the things you love
Want your family's financial future to feel safe and secure? Download my Easy Family Budget Worksheet and take control of your family's finances in just 10 minutes!