The fall sports season is in full swing as fans gather to watch their favorite teams in action. And there's nothing like being in the stadium or arena to watch a game live. But before you purchase your tickets and head out to the game, it's important to manage your spending as sporting events can get expensive. In fact, a recent survey found that Americans shelled out $56 billion to attend sporting events last year and a family of four can expect to spend more than $500 to go to an NFL game in person.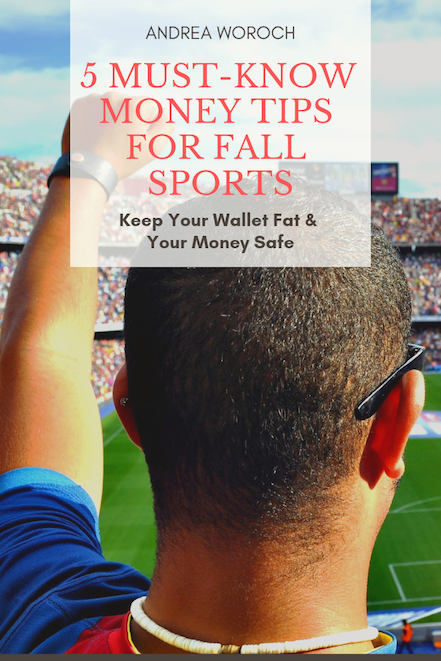 This doesn't mean you have to stay home and miss out on the fun. Just follow these simple tips to stretch your game-day dollars and keep your money safe.
Take advantage of family day deals.
Many professional sports teams offer a family night and typically include discounted tickets when you buy four or more. Ticket packages sometimes come with food and drinks, as well as a giveaway or show. Review your local team's online ticket site for these promotional events to save big. For example, the Colorado Avalanche hockey team offers a family night which includes four tickets, four chicken tender meals and four soft drinks for as little as $35 each.
Also, keep in mind the day of the week. Choosing which games you attend can affect ticket prices as week nights are less expensive than weekend games.
Tailgate to save on food and drinks.
Fill your belly before you head into the stadium! You can save a lot on food by bringing your own. Depending on the number of people participating in the tailgate, consider buying some food items like cheese, chips, condiments and hot dogs in bulk from warehouse stores for savings of up to 30 percent. You can also have one person pick up all of the tailgate items, and split the costs among the group. That way, everyone chips in equally.
Settle up with friends and family – in the moment
Thanks to payment apps, settling up with friends and family for all of the game-day fun is more convenient. You can say good bye to the inconvenience of cash and checks and send and request money in the moment – right from your mobile phone.
A digital payment option that you probably already have in your mobile banking app is Zelle®. Zelle is a great way to split the costs of tickets, tailgating and more with your friends and family. It's used by all generations, and it doesn't matter where you bank.
Safely and easily request to be paid back or send money to friends you owe right from your mobile banking app so you don't have to worry about searching for an ATM or possibly paying fees to withdraw cash. This way, you also don't miss any of the game action.
Oh, and it's fast! So before you hit "send" on a payment, confirm you have the recipient's correct contact information. Your friend may have changed mobile phone numbers or email addresses so it's always wise to double check and make sure you're sending to the right person. And, when you receive money with Zelle, it's directly available in your bank account in minutes.
Beware of Ticketing Scams.
When you're desperate to find tickets at the last minute, it can be tempting to go out on a limb for the chance to see your favorite team play its biggest rival. But look out for ticketing scams! If the price is too good to be true, it probably is! If you do decide to take a risk and purchase tickets from someone you don't know or trust, don't use Zelle to send them money. These are potentially high-risk transactions. Zelle does not offer a protection program for any authorized payments made with Zelle (for example, if you do not receive the tickets or if the tickets are not what you expected). Only send money with Zelle to people you know and trust. So if you aren't sure you will get what you paid for, you should use another payment method with purchase protection, such as a credit card.
Enjoy a semi-pro game.
Let's face it. Pro games can be expensive, and not everyone can afford to get tickets for the entire family. Not only that, but not all fans live near the home stadium of a major sports team, making it more expensive to attend a game in person – keeping in mind the costs of fuel and other accommodations. However, you can often enjoy an authentic game-day experience at a much lower cost by attending a local semi-pro or college game. Often times these teams host creative promotions, coupons and giveaways to get locals out to support their team. Check your local listings for a rundown on these types of deals before planning your season outing.
And finally, have fun at the game!
###
¹Must have a bank account in the U.S. to use Zelle.
² Transactions between enrolled Zelle users typically occur in minutes. If your recipient is not yet enrolled with Zelle, it may take between 1 and 3 business days after they enroll.
Disclaimer: This post is written in partnership with Zelle. All opinions expressed are my own.
Save for the things that matter
Without giving up the things you love
Want your family's financial future to feel safe and secure? Download my Easy Family Budget Worksheet and take control of your family's finances in just 10 minutes!