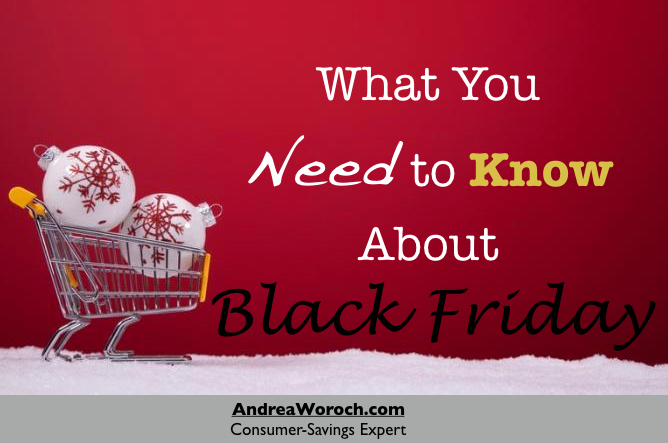 The biggest shopping event of the year is almost here and it's going to be bigger than ever. In fact, the National Retail Federation predicts that 164 millions consumers will shop over Thanksgiving weekend, with 70% planning to shop on Black Friday. If you're among the masses who is hoping to score doorbuster deals this weekend, here's what you need to know.
Doorbusters may be limited to in-store only purchases. Many brick and mortar stores want to drive traffic into their store and have limited special buy items to in-store shoppers. When reviewing Black Friday circulars, read the fine print to find out if the deal is in-store only and find out how many of a certain deal will be sold before heading out.
Online is still a great place to shop. Although some doorbusters can only be bought in store, there are plenty of online-only retailers like eBay, Amazon and Newegg that will be releasing their own deeply discounted items. While inventory may also be limited, opening product pages in advance of the sale and saving shipping and payment information will help make the checkout process faster so you can pounce on the deal quickly.
Look out for lots of freebies. Retailers are kicking up the Black Friday deals by handing out freebies to attract shoppers. From free gift cards with purchase to free products after mailing in a rebate to free gift certificates and coupons, the freebies are endless this season. Consult this list of freebies before you plan your weekend shopping trip. You can even earn points to redeem toward free gifts just by shopping using apps like Shopkick and Swagbucks.
Beware of derivative goods. Some brands and manufacturers make products specifically for Black Friday in order to offer rockbottom prices. Such goods may be made of inferior quality or missing key components compared to similar items on the market. Remember a low price on a lousy product isn't a good deal so review product details to ensure you're getting what you want.
Control impulse shopping. There's no doubt Black Friday weekend through Cyber Monday will offer plenty of discounts on popular items and this can become overwhelming. You may feel a sense of urgency that pushes you to purchase goods you really don't need in fear that you'll miss out on a great deal. Control impulse purchases by mapping out a shopping route in advance based on a detailed shopping list and shop with cash when possible. Otherwise, stay home and enjoy time with family and friends. It's time better well spent anyway!
Happy deal hunting!
Save for the things that matter
Without giving up the things you love
Want your family's financial future to feel safe and secure? Download my Easy Family Budget Worksheet and take control of your family's finances in just 10 minutes!