Believe it or not, it's easy to make mistakes when trying to save money. Especially when it comes to shopping for deals. One of the biggest areas you are likely making a shopping mistake is associating certain stores like Walmart, Target, Amazon and Costco for having the best prices. And, these misleading perceptions can fool you into spending more money.
Find out which 7 common shopping mistakes you're making and how to save money.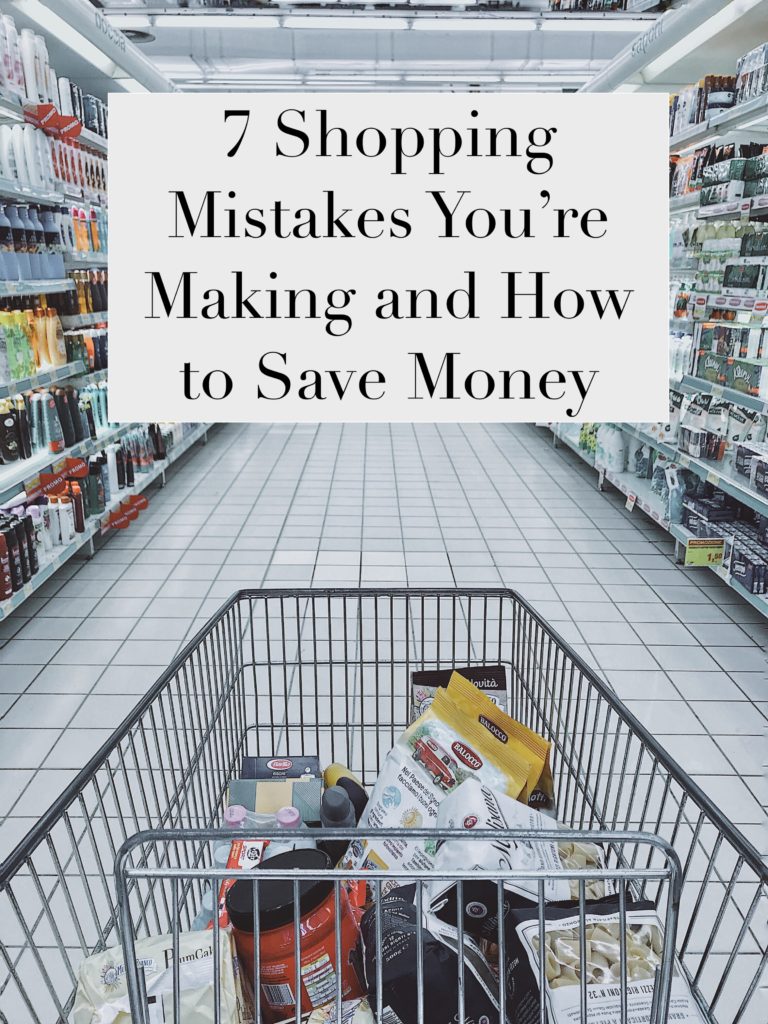 Mistake 1: Shopping without a plan or list. 
When you walk into a big box or warehouse store with the intention of getting just a few staples like toilet paper, milk and coffee, you are often greeted by large product displays which may appear to be an incredible value. Although many of the items are a good deal, it doesn't mean you need to buy them. This is why it's a good idea to prepare a shopping list.
Take a peek around your home to figure out what you're in need of along with your grocery list and write it down in your Notes app or piece of paper. This will help you stay focused when shopping and also ensure you don't forget an important item.
Mistake 2: Falling for dynamic pricing. 
Online retailers like Amazon are notorious for fluctuating prices on their products and if you aren't paying attention, you could end up overpaying. There are several tools you can use to track prices and review price histories so you know the best time to buy most items on Amazon. CamelCamelCamel offers price history tracking for many items sold on Amazon and even the site offers their own price tracking tool called, Amazon Assistant, which will alert you when items on your list go on sale.
Mistake 3: Not reviewing shipping and return policies. 
Don't assume everything you buy online from a site like Walmart.com or Amazon falls under the same shipping and return policy. Although some items are shipped and sold by these stores, others are fulfilled by third party retailers. That means, policies and fees can vary per item and per merchant. Making an assumption without reviewing could mean you end up paying more in delivery and return shipping fees. Plus, be limited on whether or not you can make a return. 
Therefore, it's important to review the shipping and return policies to see if there are any fees for either before buying. If you are an Amazon Prime member, you can click on the Prime button to view products that are available for free two-day delivery. Just do your research before buying anything.
Not to mention, stores periodically update their various policies and assuming the return period or shipping fees is the same as on a previous purchase could put you in a jam. Always take a peek or ask the associate before checking out to familiarize yourself with their policies.
Mistake 4: Missing out on coupons and cash back. 
If you're planning to pay with a credit card, you can typically earn extra points based on what you're buying or where you shop. If you aren't brand loyal, it's important to review your reward options to make sure you're maximizing your earning potential by using the right card at the right store. Sometimes, your credit card may even require you to opt in online in order to earn bonus rewards for certain product categories like groceries or for certain retailers like Albertsons. Therefore, always check your card offers before shopping to make a smart plan.
Don't forget to download the store app to find additional savings or cash back earning opportunities. For instance, Target's Circle app is an easy tool for helping finding coupons on everything from clothing to household goods to food. You can search for deals by category or scan products to apply coupons for that item to your account. Plus, you can also earn cash rewards for all your purchases and apply that balance to your next transaction. It's a no-brainer!
There are other non-store brand apps that can help you save and earn money back on the purchases you're making anyway. For instance, you can earn money on groceries using a free app like Fetch Rewards (use code EASYBUDGET when you sign up to get an extra 3,000 points!). The app is really easy to use–just scan a picture of your grocery, restaurant or retailer receipts to start earning points. Once you accrue enough points, you can redeem your rewards for free gift cards to popular retailers. These free gift cards can come in really handy as gifts or be used to offset other household essential purchases, helping you stretch your budget even further.
Mistake 5: Not comparing prices. 
Although big box stores have have competitive prices on groceries, household cleaning supplies and other merchandise compared to speciality retailers, grocery stores and convenience stores, don't fall into the trap of assuming their price is the best price. That's because, a competitor could be running a sale or simply offer a better deal on a certain product category at any given time. Therefore, if you aren't comparison shopping before you buy anything, you could be missing out on savings and leaving money on the table. 
Take the work out of comparing by using a browser tool like the Invisible Hand which automatically compares prices for any product you're browsing online and provides a pop up notification if that same item is sold at another site for less.
Mistake 6: Overlooking deals on shoes and clothing. 
Big box stores often get a bad reputation for carrying cheap items, but why spend more on generic clothing like tee shirts, tank tops and socks? Big box stores are a great place to stock up on these essentials for less. I especially like the selection of kid's clothing and shoes at Walmart these days. Considering kids grow out of clothing and shoes quickly, you shouldn't waste your money on name brands. Walmart's Garanimal brand and Wonder Nation shoes are great prices and sometimes even go on sale and you can snag pieces for under $3 each. I also have bought my daughters cute jelly sandals and light up Frozen flip flops for under $7 each. You can't beat that!
Mistake 7: Taking your kids to the store.
If your kids are anything like mine, shopping can be a total hassle. From whining to running around to grabbing anything they can get their hands on, kids are a major distraction that can cause you to miss deals, make impulse purchases and forget items on your list. And, let's be real, are you really going to go back to the store to return the items you ended up buying that you really don't need? Probably not. So, try to find time to shop when your kids are home with a caregiver or in school. I know not everyone has the luxury of hiring a babysitter, but you may be able to squeeze in an early morning or even after dinner shopping trip when your spouse is home to watch them. Just make sure to have your list ready to go so you can get in and out quickly while staying laser focused to what you actually need.
Save for the things that matter
Without giving up the things you love
Want your family's financial future to feel safe and secure? Download my Easy Family Budget Worksheet and take control of your family's finances in just 10 minutes!