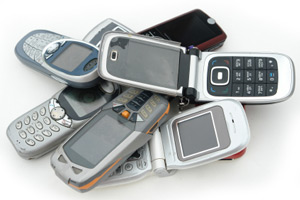 Cell phone plans are the new markers of inflation. What once cost under $35 now easily soars over $100 with data plans, texting and unlimited minutes. About those price-gouging mobile plans. Cutting costs on a decent one seems like a near impossibility, but a few careful decisions can make your investment worthwhile.
Read on for 11 oft-neglected ways to save on the initial cost of a phone and build a plan that won't require selling your first born.
1. Pay-As-You-Go Phones
According to the New Millennium Research Council, roughly 25 million Americans could save money by switching to prepaid since you pay for what you use and nothing more. Prepaid service companies like Boost Mobile, NET10 and Virgin are more accessible than ever and even AT&T and T-Mobile are getting in on the act, crafting reasonable prepaid for those who want the reliability of a major national network. Some carriers have watered-down versions of other plans, such as the text-friendly T-Mobile offering of $15 per month for unlimited text (but no voice). Others opt for a credit model, where you pay per usage. Rates change by company, but most charge between 5 and 10 cents per minute or text.
2. Buy an Unlocked Phone
Buy an "unlocked" phone, meaning the SIM card (Subscriber Identification Module) isn't associated with one specific provider. These free-agent phones are compatible with any network, allowing you to use them for the service you prefer. Electronics stores, Amazon and eBay are just a few places you can find an unlocked phone.
3. Use Coupons
You can buy unlocked phones online using Best Buy coupons and other electronics coupons. Search for the coupon that best suits your needs, but don't forget to check out the phone accessories coupons for items you'll need after purchasing the phone.
4. Trade Up
If your phone still works and you just want an upgrade, check GreenPhone or CellTradeUSA to switch for another model. You'll have to pay to trade but often can find a better deal than purchasing elsewhere. You might also look on CraigsList to purchase from a private individual, but electronics purchased from this website come with no guarantees, so buyer beware.
5. Go Basic & Cut the Extras
As with airlines, service providers have started heaping on extraneous fees. Just about any desirable phone these days now requires a data plan in addition to voice, text and other services. The key to saving here is to select only what you'll use and leave all else behind.
Most salespeople pressure you into buying a pre-made plan with all sorts of extras, but hold your ground. Ask for a detailed break-down of charges and remove the junk you won't use.
6. Extend Your Definition of Family
As a purely money-saving device, family plans are great for any group of reasonably trustworthy people, including roommates, friends and extended family. Members of your plan needn't be related to receive these rates, but make sure those on your plan are trustworthy enough to pay their share of the monthly bill.
7. Use An App To Text for FREE
Although texting can cost upwards of $10 per month, it's the service many under 35 use the most. If you have a smartphone, cut your provider out of the picture. Download free texting apps like Textfree with Voice for iPhone and chompSMS for Android. You'll only be able to text those who have the app, but the savings make it worth convincing your family and friends to try the app method.
8. Check Out WireFly
Wirefly is well known by phone frugalistas for super savings on leading brands, from BlackBerry, LG, Motorola and Nokia to Palm, Samsung and Sony Ericsson. You can also shop this discount website for service plans, upgrades, ringtones and more.
9. Use Your Employer Discount
If you're not voraciously committed to your current provider, switch to the one your employer uses. Just about every major carrier offers a business discount that can be applied to personal phones. All it requires is a valid e-mail address or other form of ID from your employer. Plenty of outfits are in on these programs, from major corporations to school districts.
Discounts sit between 15 and 20 percent so ask your human resources office which provider they're affiliated with, then Google the name along with "business" or "corporate discount" to find the appropriate request form. This simple trick also works for university students and, depending on your provider, can be applied to family plans.
10. Visit a Warehouse
The perks of membership at Sam's, Costco or another warehouse club go beyond 36-packs of toilet paper. Most have an in-store cell phone kiosk with phones and plans from most of the major carriers. These provider-certified outfits carry a decent selection of new phones, have regular discounts and are independently operated (a.k.a. no pushy salespeople).
Save for the things that matter
Without giving up the things you love
Want your family's financial future to feel safe and secure? Download my Easy Family Budget Worksheet and take control of your family's finances in just 10 minutes!