8 simple steps to stay out of debt this holiday season.
The holidays may seem far away, but in a few short weeks (9 to be exact!), you'll be sitting down to a Thanksgiving meal and browsing Black Friday deals. This is why it's important to prep your budget now so you can avoid going into debt later this season.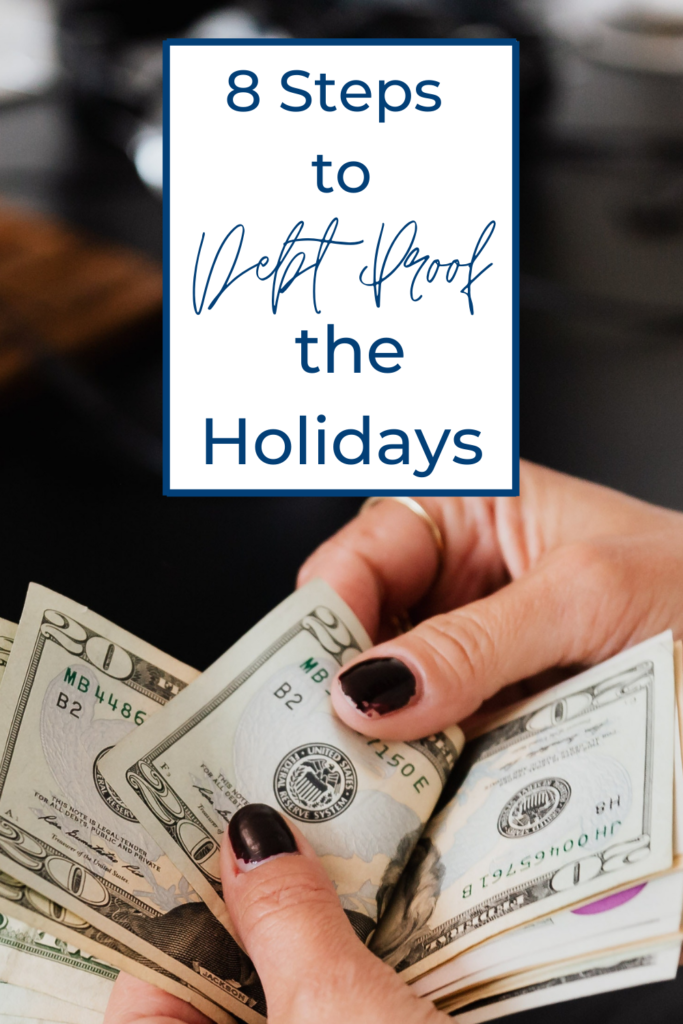 Setting a holiday budget well before the holidays roll around gives you time to save up for all those upcoming seasonal expenses so you don't have to make sacrifices. Plus, plan your gifting strategy. By carefully tracking all expenses and even shopping early, you can avoid overspending and stay out of debt.
Set Your Holiday Budget Now.
Setting a holiday budget well in advance gives you a leg up for the upcoming holiday rush. Begin by reviewing your current monthly expenses to see how much extra room you have for gifts, travel, decorations and festive meals. Just remember to consider all those unexpected expenses that can creep up like extra childcare or hostess gifts. You also want to make adjustments to your current spending and find places to cut back. This way, you can save up more so you can afford certain holiday expenses that are important to you. If you don't know how to set a budget, download my free budget worksheet to get started.
Plan Your Gifting Strategy.
Have you ever planned out your gifting strategy? This is when you write out a list of loved ones you plan to buy gifts for. Based on your overall budget, you can then assign how much to spend on each person. .
This is also a good time to set gift expectations. Speak with family and friends about the upcoming holiday season and if everyone would be willing to make a change to how you exchange presents. This year, you can limit gifts to just the kids in the family or set up a secret santa exchange instead. Sites like Elfster make it easy to coordinate a truly secret gift exchange!
Start Shopping Early.
Now that you know who you want to buy gifts for, start thinking of ideas for each person on your list. With so many fall sales upon us like Amazon Prime Day (check out my Prime Day shopping tips to maximize savings!), this is a good time to start shopping.
Picking up a couple gifts early alleviates the stress of last minute shopping and helps you avoid debt. This way, you spread out purchases over several paychecks instead of trying to buy everything at once in December. You will better manage your cash flow and avoid racking up purchases on your credit card.
Stash Your Rewards.
Most credit cards offer rewards these days and cash back is especially useful around the holidays. If you don't have a cash back credit card, review this recent story in which I shared a few of my favorite cash back cards and consider applying for one. Many come with cash bonuses for spending a certain amount of money in the first few months. As long as you don't rack up unnecessary purchases, this is an easy way to make some free money for gift shopping. Otherwise, stash up all the rewards you're already earning to redeem toward gifts.
If you're not doing this already, make sure you're using cash back sites and apps. This way, you earn money back on everyday purchases that you put toward holiday shopping. Download a free savings tool like Cently to your browser, which will automatically search for, test and apply any available coupons to your online order and cash back deals. You can even earn store gift cards by scanning receipts from grocery purchases using the Fetch Rewards app. Enter the cost Easy Budget to get a free 3,000 points just for sining up. That's enough points to redeem for a free gift card right off the bat! Learn more about this app by reading my recent post about shopping mistakes.
Research and Track Gift Prices.
When it comes to determining a holiday budget, spend time researching prices of gifts you want to buy. This will tell you how much you need to save or that you may need to find a less costly gift. Spending time researching prices now also makes you a smarter shopper.
Since prices will fluctuate during the holiday shopping craze, educating yourself of the base price can help you spot those good deals when they become available. Alternatively, this will help you avoid any misleading promotions. You can even set price alerts of products you want to buy using the Amazon Assistant tool or Honey's Drop List feature. Both will alert you when an item in your list goes on sale. Meanwhile, a cool app called Paribus will track prices of online purchases linked to your email. If they notice that something you purchased went on sale shortly afterwards, they will request money back for you. This way, you can shop confidently knowing you will never miss a deal.
Cash In On Clutter.
Another simple way to beef up your holiday budget is to declutter. Spend time now going through your closets, drawers and garage to find items you no longer need or use. This is the perfect time to sell these items and use the cash toward a gift shopping account. For big ticket items, sell through local listings so you don't have to deal with the hassle of shipping. Sites like Facebook Marketplace and OfferUp make it easy to connect with people in your community and set up in-person sales. When it comes to selling clothing, check out Poshmark or Thredup. For electronics, use Decluttr. Meanwhile, you can sell just about anything on eBay or Mercari. Put the money you make from these sales into a separate account so you aren't tempted to spend it.
Stock Up on Gift Cards.
Did you know, you can find discount gift cards to popular stores at a significant savings? Sites like Gift Card Granny, ABC Gift Cards and Raise sell other people's unwanted gift cards at up to 20% off. That means, you get an automatic discount off any purchase without applying any other deals. If you can find a coupon or item on sale, your savings grow exponentially.
You can find such discount gift cards to popular stores like Macy's, Kohls, Old Navy and more. Select to receive a physical gift card in the mail to use when shopping in store. Otherwise, opt for an e-gift card code to redeem at check out if you prefer to shop online. Since discount gift cards can take up to 10 days to arrive in the mail and may sell out when the holidays approach, it's a good idea to start stocking up on these now. Arm your wallet with several discount gift cards to all the stores you plan to shop at so you always have a deal available.
Book Holiday Travel Now.
If you plan to travel over Christmas and New Year's or even Thanksgiving, start booking now. Usually, the sweet spot to get the best rate on domestic airfare is 6 weeks before departure date. However, this rule does not apply during the holidays. Even with fewer people traveling during the pandemic, prices will be cheaper the earlier you book. Not to mention, vacation homes will likely book up quickly so you don't want to be left with limited choices. If you don't have your heart set on a specific destination, set price alerts on Google Flights or Scott's Cheap Flights and book a trip based on the lower prices. Then, review my money-saving tips for holiday travelers so you don't bust your budget.
Remember, you don't have to go overboard on shopping if it isn't in your budget. Loves ones rather spend time with you than receive a present!
Save for the things that matter
Without giving up the things you love
Want your family's financial future to feel safe and secure? Download my Easy Family Budget Worksheet and take control of your family's finances in just 10 minutes!