Labor Day weekend marks the unofficial end of summer and with that comes a bevy of Labor Day sales on end-of-season merchandise. But it's not just summer clothing you can find at a steep discount during, there are several other categories worth keeping a watchful eye on for serious savings. Just keep in mind, not everything that's on sale is the best price you will score. In fact, there are a few items that you should skip and wait to buy later in the year for even bigger discounts.
Below I've included my list of what to buy and what to skip, or watch my recent segment on KTLA Morning News, highlighting some of the best Labor Day sales happening right now.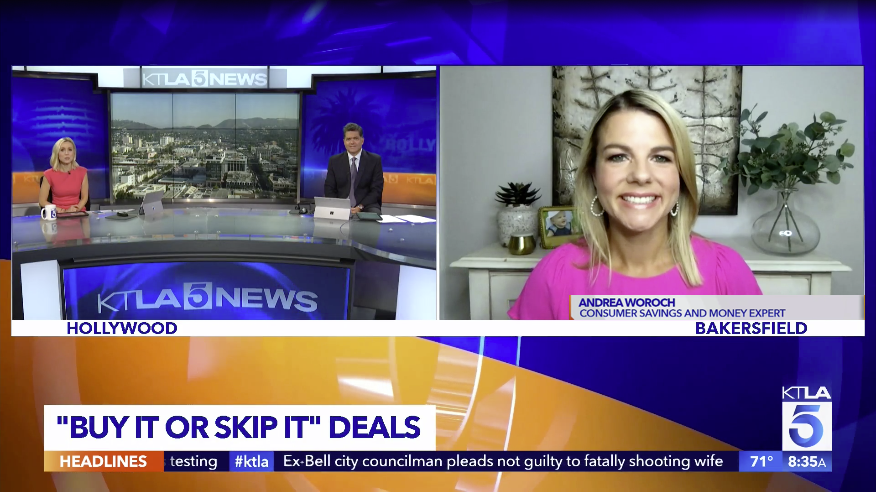 Labor Day Sales, What to Buy
Summer Fashion
There are still a few more weeks of hot weather ahead, but nonetheless retailers are eager to clear out summer merchandise so they have room for the latest fall and winter styles and you can expect major discounts of up to 75% off summer fashion staples like sundresses, shorts, swimsuits, sandals and sunglasses. In some cases, you can stack coupons on clearance items for an additional 10 to 25% off so always check for coupon codes from sites like CouponFollow.com.
Personal Tech
This is an unexpected category this year for Labor Day but with back to school shopping needs changing and the school year starting later, you can find many deals on personal gadgets for virtual learning including laptops, headphones and even smartphones.This is an unexpected category this year for Labor Day but with back to school shopping needs changing and the sales starting later, you can find a bevy of sales on personal gadgets for school including laptops, headphones and even smartphones.
For example, Microsoft is offering $300 off the 15 inch Surface Laptop 3, originally $1,199.99, now only $899.99, or score the 2019 Dell XPS 13 touch laptop for $679.99, originally $849.99. Other sites to check include Best Buy, Apply and Newegg and look for certified refurbished deals to save even more. Even ebay has some sweet deals like 59% off LG V50 5G ThinQ Phone
Mattresses
Big ticket items like mattresses always go on sale during long holiday weekends and Labor day is no exception. Many mattress retailers host sales on specific brands and styles and may offer free items with purchase to provide a better value. Although online deals abound, test different mattress in person first so you know what you like. Notable deals include $200 off $1,000 at Saavta, 50% off the Sleep Number 360 Limited Edition smart bed from Sleep Number with 0% interest for 60 months and buy-one-get-one-free pillows. Meanwhile, at Mattress Firm's Labor Day sale, you can get a King-sized mattress for the price of a Queen or a Queen-sized mattress for the price of a Twin. Plus, a free adjustable base with any mattress purchase of just $699 or more.
It's important to always try the mattress first and read reviews so test a few options in store ahead of Labor Day, then shop around online to see who has the best deal.
OUTDOOR
Labor Day marks the unofficial end to summer and with that comes major sales on backyard patio furniture and grills, outdoor rugs and umbrellas. This is a great time to finally upgrade your backyard space and you may even be able to enjoy it for a few more weeks or months depending on where you live. Prices may dip down further into October, but your selection will be even more limited so now is a good time to buy.
For instance, you will find up to 60% off patio furniture at Wayfair and up to 50% off select grills at The Home Depot.
New Cars
2021 car models will hit dealer lots this month so dealerships need to move current 2020 models. With lower sales thank to Covid, expect even more deals and plenty of competitive financing options. For example, you can get a 6 year 0% financing deal on select 2020 Volkswagen and $2,000 cash back on the 2020 Kia Sorento.
I recommend using TrueCar to find out what other people in your area paid for the same make and model. This will give you an idea on how much to negotiate!
What to Skip
Fall Clothing.
Colder weather clothing like sweaters, rain jackets and denim are in season during Labor Day and even though some items will be on sale for around 15% off, skip this deal. You can find better savings in October when clothing brands and stores are trying to clear out their leftover inventory.
Halloween Decor and Costumes.
You may find a small savings of 10 to 20% off Halloween and fall decor, but wait until the last two weeks before to get even better deals. The day after Halloween will provide even bigger savings. Otherwise, look at used decorations through local listings and second hand costumes at Goodwill for better savings earlier in October.
Big Screen TVs
I've seen promotions on new TVs across electronic retailers leading up to Labor Day, but if you can hold off a couple more months, you will find even better deals over Black Friday weekend. Just make sure to read my Black Friday shopping tips so you can snag the best holiday bargains when you see them.
Happy deal hunting!
Save for the things that matter
Without giving up the things you love
Want your family's financial future to feel safe and secure? Download my Easy Family Budget Worksheet and take control of your family's finances in just 10 minutes!