Amazon Prime Day is about to go live and you may be wondering if it's worth all the hype. Well, that all depends on what you are buying. So to help you figure it out, I pulled together a few important details about this year's sales even along with tips on how you can save even more.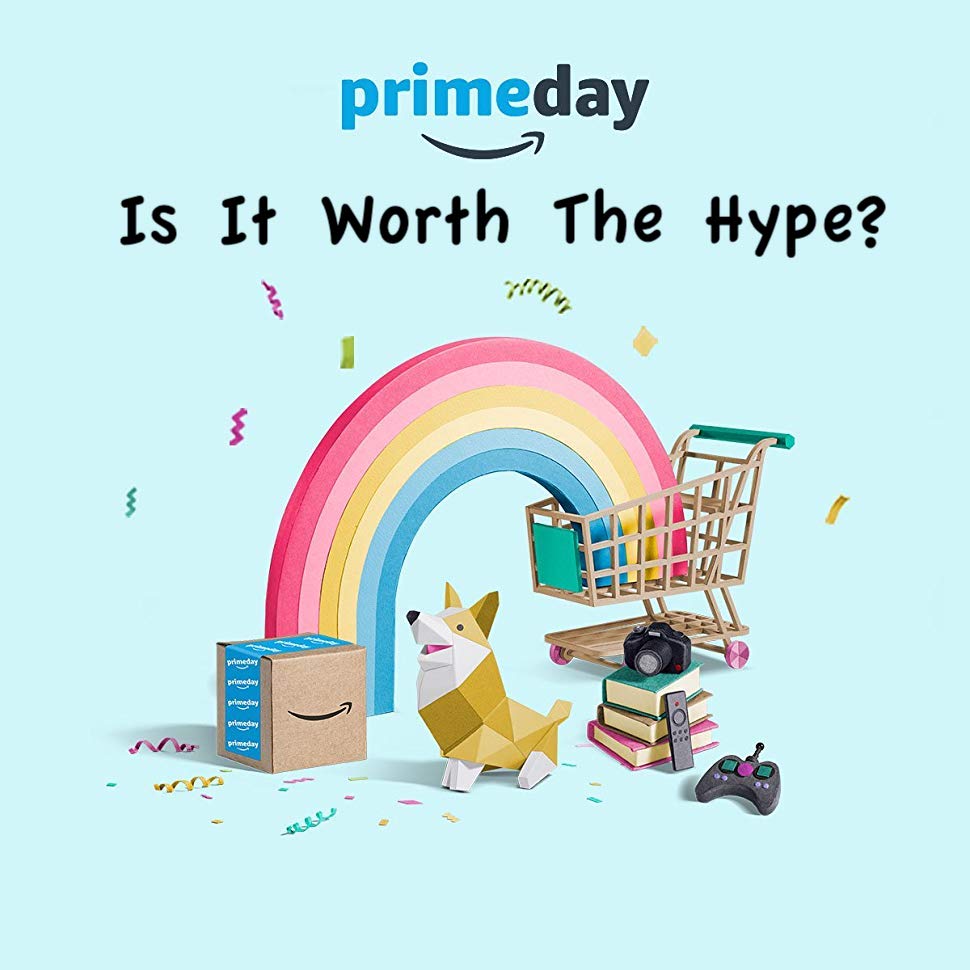 This year's Amazon Prime Day, an exclusive sales event for Prime members, is longer than ever–the sales will be on for two full days, from Monday, July 15 to Tuesday, July 16. As you may predict, some of the best deals will be on Amazon devices such as the Fire Tablets, Fire TV, Echo and Kindles. You can also expect big savings on other Amazon brands like AmazonBasics household items and AmazonEssentials clothing. Not only does Amazon have the most flexibility to cut prices on their own products, but they're also eager to drive more sales of these items since they make the most money from them. Beyond Amazon brands, however, you can expect sales on hot items such as Apple AirPods, InstaPot (this was Amazon's biggest seller for Prime Day 2018 so there are sure to be big deals on it again this year!), Ring Doorbell, Apple Tablets and more. Although tech is a big category for this sale, you can also expect deals on home goods and clothing. Promising over 1 million deals, plenty of sellers on Amazon will be getting in on the action and offering deals on their products. That means, if there's something you routinely purchase on Amazon or have been eyeing to buy recently, check back during Prime Day to see if it's on sale. There's a good chance it will be!
Here's a quick look at a few top deals that you can snag from Amazon during Prime Day:
$100 off Amazon Fire TV Recast, now $130. 

Up to $50 off the Kindle Paperwhite + a $5 eBook credit and 3 months free Kindle Unlimited at just $85.

50% off Amazon Echo, just $50.

$130 off the Ring Video Doorbell Pro and Amazon Echo Dot for $169 (The Echo Dot is essentially free).
Before you sign on to Amazon, here are a few ways to get more from your purchase.
Use the Amazon app for the first time and get a $10 credit.

Spend $10 at Whole Foods Market between July 3 to 16 and get a $10 Amazon credit to use on Prime Day.

Install Amazon Assistant to your browser (a price alert tool) for a coupon for $10 off $50 purchase on Amazon.
Take advantage of the free trial. You have to be a prime member to access the sale so make sure you take advantage of the 30-day free trial if you aren't a member. Just make sure to cancel once the sales event is over or set a reminder in your calendar a few days before the month is up so you don't get auto enrolled into a paid membership. If you've already signed up for a trial and cancelled within the past 12 months, you won't be able to do it again. You can always ask a friend to buy the deal for you and just send them money via Venmo or Zelle.
Compare prices. Don't assume Amazon has or will have the best price on any given item during Prime Day. Plus, competitor retailers are offering their own discount events. Be on the look out for deals during this time from stores like Target, Walmart and eBay. Target is hosting Deal Deals on July 15 & 16, offering savings such as 30% off swim and select sandals, 5% off Target eGiftCards and much more. Meanwhile, ebay is hosting the "Crash Sale" on Monday and Tuesday, with big savings on top brands across every category all with free shipping and no membership required. And, of course, Walmart is getting in on the action by promising big rollbacks and more from July 14 to 17 with sales such as $150 off the HP 15.6-inch HD Touch Display laptop computer and $125 off the Dyson Multifloor Bagless Upright Vacuum for a final price of $154. Plus, you can snag next-day delivery on a wide variety of products.
Track price history. If you aren't sure if something is at it's all-time-best-price, run a quick price history check on CamelCamelCamel.com. This will let you know if the price offered on Prime Day is truly the best or if it's been sold for less—giving you the opportunity to make a better buying decision. It may be better to wait for a better sale like those offered around Black Friday, for example.
Check return policies. Most items will let you know if free returns are available and this is an important feature to look out for when buying anything on Prime Day, especially clothing since you want the option to return or exchange if something doesn't fit or meet your quality standards. Keep in mind, some items have a limited period of time to make a return so make sure to start the return process before the deadline.
Get cash back. Sites like Ebates and Swagbucks offer cash back for online purchases, including those made on Amazon. Right now, for instance, you can earn a free $15 gift card just for signing up for Prime through Swagbucks. This is a great deal to take advantage of if you're signing up ahead of the event! Beyond this, Swagbucks is offering up to 5% cash back for purchases at Amazon through their site and this percentage may increase during Prime Day since it's so popular.
Look for coupons. Amazon sometimes offers coupons for extra savings but you have to select the coupon box in order for the deal to apply to your order. Since these coupons are offered from sellers through Amazon, there could be different deals for the same product. This means you need to spend time reviewing the different listings across sellers on Amazon to pinpoint the one with the biggest sale!
So, what's my final verdict?
Amazon promises big sales on Prime Day, but it's easy to get caught up in the excitement and spend money on items you really don't need. If there's something you were going to buy anyway that is a really good deal compared to the regular list price, then go for it. Just keep in mind, many of these sales will come around again usually during Black Friday.
Save for the things that matter
Without giving up the things you love
Want your family's financial future to feel safe and secure? Download my Easy Family Budget Worksheet and take control of your family's finances in just 10 minutes!