Bauer is our Goldendoodle and he is more than just a dog–he is family. It really feels like just yesterday we were picking him up from the breeder and bringing him home for the first time. We didn't have kids at the time so he was our everything. He was essentially our first child and he use to get all of our attention. But just because we have kids now doesn't mean he has been pushed to the sideline. He is still our best friend and gets lots of hugs, kisses and belly rubs! In fact, nowadays we love watching him play with our girls. He is so good with them and they just adore him. Some of our best vacation memories are to dog-friendly spots. We have taken him hiking, camping and to various beaches across the California coast. We simply couldn't imagine our lives without him.
With that said, the costs of owning a dog (especially a large one!) are much more than I ever anticipated. Beyond routine care like grooming, food and pet sitting, vet care has been expensive. In addition to regular wellness visits, we have had a few emergency trips to the vet. And, most recently, we had to send him in for surgery. Ouch — that was pricey! Regardless of the cost, we always want to make sure we give Bauer the best care we can and that means he has to be part of our financial plan. After all, pet costs can be a tremendous burden if you don't plan well, especially if an emergency strikes. Did you know that the average dog owner spends nearly $1,300 a year on pet related expenses? This is a big financial responsibility and everyone should be budgeting accordingly if they have a pet. In addition to making sure we put money aside for doggie-related expenses, there are a few other ways that we have been able to stretch our pet dollars that I want to share with you.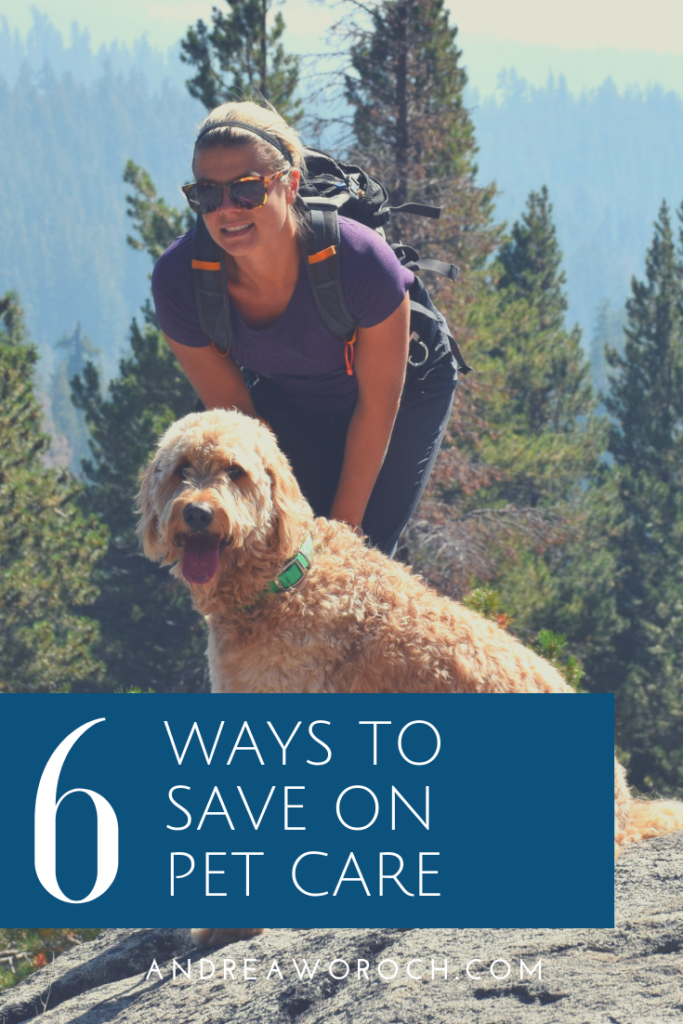 Here are six ways you can save on vet care for your beloved pet.
Look for low-cost clinics. Routine check ups, vaccinations and emergency care for your four-legged friend can get expensive. However, you may qualify for discount care available at low-cost clinics. Search for a nearby accredited veterinary school through the American Veterinary Medical Association to find out about free care to pet owners in need, or sliding-scale services. You can also find free or low-cost neuter or spay programs using the ASPCA website locator tool. Finally, vaccination clinics are held by select veterinary practices and Petco stores regularly, saving you money on office fees.
Ask for generic meds and buy online. You don't have to fill a pet prescription at the vet. Since prices on pet meds can have markups of over 100 percent in some cases, it's a good idea to compare prices with nearby retailers and online pharmacies. As long as your pet doesn't need treatment immediately, compare med prices online at sites like 1800PetMeds and PetCareRX. These offer both generic and brand-name meds for less, plus you can find coupons for extra savings. For instance, in the past I have found codes for s 15% off your qualifying purchase at PetCareRX and 10% off plus free shipping on $49 orders from 1800PetMeds.
Consider pet insurance. If you're the type of pet owner who will spare no expense for veterinary care, consider signing up for pet insurance. The number of pet insurance carriers has increased significantly from just ten years ago, and most offer several levels of coverage. Visit PetInsuranceComparison.org for information on available policies, reviews and questions to ask providers. Otherwise, set up an emergency fund specifically for your dog or cat to help cover those last minute vet needs. As long as you have cash to cover these expenses, then you can avoid taking on high interest debt! I recommend opening a separate account so you don't get tempted to dip into the funds for other reasons. I prefer online savings accounts because the money is out of site and out of mind AND many online banks offer better interest rates so you can earn more.
Fix for less. Neutering or spaying your pet is crucial to avoiding the exponential expense of caring for a litter down the road. The average cost of the service from your local vet is between $200 and $300, but many organizations offer this service for less to curb the number of homeless animals. Consult ASPCA's Low Cost Spay/Neuter Programs page to find a provider near you.
Stay on top of grooming. There are plenty of services you should not attempt to do yourself. With that said though, there are several you can administer at home to save money. Brushing, ear cleaning and nail clipping are just a few necessities you can likely handle without the assistance of a professional. Your vet will be more than happy to share  the best techniques for at-home care as they'd much prefer to spend time on more specialized services. Keep in mind, keeping up with grooming can help you spot potential illnesses before they escalate and also keep other issues at bay.
Use discount gift cards. Sites like Cardpool, Raise, ABC Gift Cards and Gift Card Castle sell other people's unwanted gift cards at a discount and you can often find some for pet stores like Petco and Petsmart, where you can get all your pet's health and grooming needs. For instance, you can currently get 18% off gift cards to PetSmart (available at time of this posting). That means, you get 18% off your purchase instantly all because you purchased the discount gift card. Since it's like cash, you can use it with sales and coupons–there are no restrictions on how it will be applied to your final order. Meaning, you can stack coupons and sales to stretch your savings even further! Use GiftCardGranny.com to review available offers across these different discount gift card sites to find the biggest savings.
Save for the things that matter
Without giving up the things you love
Want your family's financial future to feel safe and secure? Download my Easy Family Budget Worksheet and take control of your family's finances in just 10 minutes!