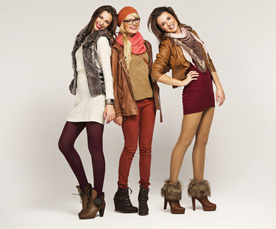 I'm on a spending freeze for the next few months as my budget recovers from my recent wedding and honeymoon. So far I'm doing pretty well, but I'll admit I've been tempted by the latest fall fashions that continue to flood my inbox. I'm a sucker for boots and cozy oversized sweaters, but my wardrobe is already stocked with these cold weather essentials so I know there's no room in my closet or my budget to make another purchase.
I've been making do with what I already have and am trying to reinvent my wardrobe with cheap accessories like scarves and statement jewelry. Since being a budget fashionista doesn't come easily, here are my tricks for staying fashionable without sacrificing style.
1. Get new outfits for free when you browse Pinterest searching for items you already own. It's easy to get stuck in a style rut and pair the same top with the same skirt over and over. However, you can find new uses for existing items easily when you look to others for inspiration!
2. Don't drop a lot of cash on the latest fashion trend. Keep in mind: what's hot today, is not tomorrow. Purchase trends sparingly and at a discounted price.
3. Shop stores that produce less expensive copy cats of high-fashion designers. H&M, Forever21 and even Target offer clothing and accessories that look just like the expensive brand name styles. For example, you can pick up these thong sandals from Target for $40 less than the original price of these similar-looking shoes by Diane von Furstenberg.
4. Check for coupon codes! Coupon Sherpa's mobile coupon app ensures you always have access to in-store coupons to your favorite retailers. Even upscale stores may offer a coupon, so look online, check your smartphone or just speak up.
5. Browse consignment store racks for designer clothing and accessories and save up to 80 percent. Take inventory of your own closet before heading out to find items you may able to sell for credit toward a new purchase!
6. Never swipe your credit card for a pricey designer piece unless you have the cash to cover it. If you've been eyeing a certain bag, shoes or pair of jeans, create a separate savings account to help you start putting away funds toward the purchase. This will help you learn valuable savings skills.
7. Host a clothing swap with fellow fashionable friends to stock up on new (to you) pieces for absolutely free! Come up with guidelines to ensure everyone leaves with something they love and don't forget to make it a party with snacks and beverages.
8. Invest in timeless pieces like an LBD (little black dress), nude heels or black boots. These staple fashion articles won't go out of style and spending more may delivery better quality that will last through several seasons.
Save for the things that matter
Without giving up the things you love
Want your family's financial future to feel safe and secure? Download my Easy Family Budget Worksheet and take control of your family's finances in just 10 minutes!