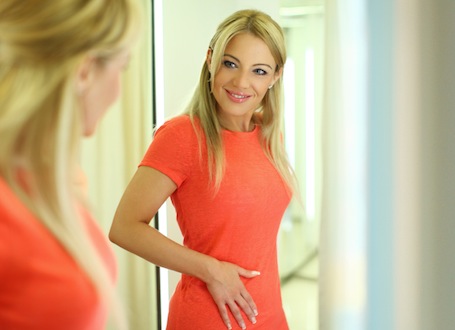 The fitting room is the ultimate stop in your shopping pursuit–it's where real decisions happen. If the clothes you pulled off the rack fit and you like what you see in the mirror then you are probably going to go home with a new outfit.
How you look in the mirror, however, isn't just a question you're asking yourself. Stores actually care how you look, too. They know the better you think you look, the better you will feel and the more likely you will be to buy. And "buy" is exactly what those stores want and intend you to do. That's why retailers have put a lot of thought into the dressing room and have considered how you feel looking at yourself in their clothes. Flattering lighting and tilted mirrors all play a part in making you appear leaner, longer and perhaps a little bit more tan. Tricky, isn't it?!
To avoid being fooled by a manipulated fitting room the next time you shop, check yourself out in a mirror located in the front of the store where the lighting likely hasn't been adjusted. Don't forget to ask the store clerk if returns are accepted for full refunds in case you aren't happy when you get home. You can also tap into your social media network to get input on the potential new duds.
Send a photo to friends for instant feedback using the image and video sharing app, SnapChat, or post a picture with your question via Seesaw to see what your social network has to say about your fashion choices.
Either way, don't get duped the next time you shop! Read this article to review several other tricks retailers may be using to seduce you into spending more than you bargained for. TheAmateurFinancier.om shared some great tips in this post on how to avoid those sneaky marketing tactics!
Have you ever felt deceived by a retailer's fitting room manipulations? You aren't alone! I've noticed that Anthropologie tinkers with the lighting in the dressing area and slightly tilts the mirrors so I always appear slimmer. Even though I know there's some seduction going on, I inevitably cave because I like what I see.
Save for the things that matter
Without giving up the things you love
Want your family's financial future to feel safe and secure? Download my Easy Family Budget Worksheet and take control of your family's finances in just 10 minutes!