Spring gets everyone in the mood to dust, organize and declutter. While you're in cleaning mode, divert some of this energy to your financial house. With just a little time and effort, you can shape things up and establish financial stability for you and your family.
Check out Andrea's segment with KTLA Morning News and more tips below.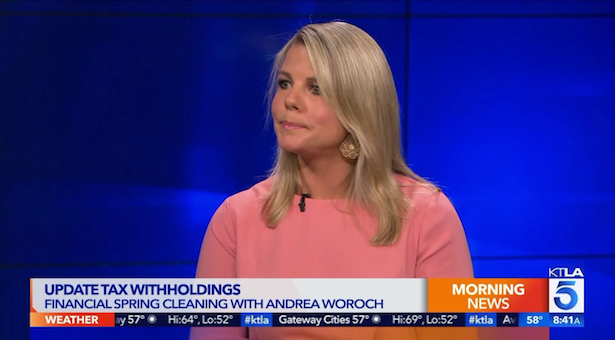 Refresh your budget.
If you recently experienced a change in a life circumstance— you got married, had a baby or bought a house — you need to rebalance your budget to make sure it's in line with meeting your short and long term goals. For help creating a budget, use the 50/20/30 budget as a guideline: Allocate 50% of your income to essentials like housing, food, transportation and utility bills; 20% to savings; 30% to personal nonessential expenses like a gym membership and travel. I find the Mint app is very helpful in managing your budget. It automatically categorizes your purchases made with a linked debit or credit card so that you can see where you're money is going in real time and make better buying decisions.
Purge paper clutter.
You don't have to keep all your important financial documents. Purge your paper trial and shred tax documents that are more than seven years old, bank statements that are more than a year old and monthly bills you've already paid. Then consider streamlining your financial accounts, statements and bill payments online, and go paperless to avoid paper build up. You should also toss circulars and coupons. Instead, download the Flipp app, a free shopping tool that aggregates weekly circulars and coupons on your phone so you can easily find the best deals on everything from groceries to household goods near you without paper clutter. Search for a particular product, retailer, coupon or brand and clip coupons with the tap of your finger to use at checkout. Flipp says users save $20 to $40 a week on groceries!
Cash in on unwanted items.
Host a garage sale to sell furniture, sporting goods and baby gear. When it comes to more valuable tech items, you're better off selling online to make more money. Decluttr pays cash for your products and there are no auctions or listing fees. They buy cell phones, gaming consoles, tablets, iPods, iPads, CDs, DVDs, video games, blu-rays and books. It's easy to use, too. Simply enter the product details for an instant price estimate, shop your products for free. Decluttr pays you the day after they receive your items via PayPal, direct deposit or check. It's fast, easy, and takes the hassle out of selling your items. For example, you can get up to $211 for an old iPhone 6s and up to $60 for a XBOX 360.
Consolidate accounts.
Managing investments across several retirement savings plans can be confusing and time consuming and old investments that you aren't managing regularly may no longer meet your target goals. If you have an old 401(k) account from a previous job and you aren't regularly managing it, consider moving it to a plan with your current place of employement or into a self-directed IRA that you watch more closely. If you need help managing your accounts, seek guidance from a Certified-Financial Planner at Plannersearch.org.
Update tax withholdings.
If you consistently receive a large refund, it's a sign that you're withholding too much from your paycheck. The money you get in one lump sum every April could be saved, invested or used to pay down debt. Review your withholdings with a tax advisor and consider updating your W4. Use the IRS Withholding Calculator for help determining how much to withhold.
Save for the things that matter
Without giving up the things you love
Want your family's financial future to feel safe and secure? Download my Easy Family Budget Worksheet and take control of your family's finances in just 10 minutes!