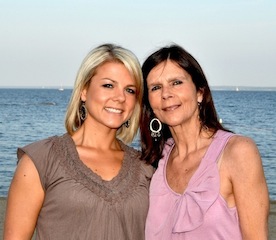 According to Google Maps, I live 2,823 miles from my mother. Though I travel to New York often for business and get to see her more than others who live on opposites coasts, it still isn't enough. I never considered how my adventurous journey out west would permanently change our relationship. So as I find myself settling in California, I am burdened by the reality that the already sparse time I have with my mother will continue to dwindle. Even though we catch up on the phone and can gossip for hours, the moments I miss most can never be replaced by a mobile device.
My mother is a special woman who always stood by my side and supported me even when I wanted to have nothing to do with her (think back to highschool years). Today, however, I can really appreciate the unconditional love she showered me with over the years. There's something about the way she can calm me down or help me through a difficult situation. And, no one is a bigger fan of me than her. I swear, I could doodle a stick figure on a piece of loose leaf paper and she would praise my artistic skills as MOMA-worthy. It's that unconditional love and support that I cherish everyday. So as we look forward to Mother's Day, I write to remind you how important it is to celebrate that special woman in your life and to never take your time with her for granted.
If you find yourself stumbling on what to do or give your mother, I've put together some simple ideas that don't cost much money yet hold high value.
Writer a Letter. Sometimes it's hard to find the words to tell our mother's how much we appreciate all thing things they have done for us. That's why a hand written letter will give you a chance to open up and express yourself, plus mom will be able to cherish it forever.
Make a Photo Album. Between smartphone cameras to Facebook snapshots, there are so many pictures circling the digital space. Why not put them into a photo album for mom so she can flip through the pages when she feels like walking down memory lane. Go with the DIY approach and put together a crafty scrapbook with personal captions and scraps of colorful paper and ribbon. Or, order one from online photo-printing sites like Snapfish.
Send a Memory Card. My childhood friend's mother has been sending memory photo cards for years. A memory card is simply a hand-made greeting card featuring a photo of the recipient. Find a picture of you and mom that represents a memorable moment you shared and take a scrapbook approach to pasting it together. Grab scissors, stick glue, ribbon and scraps of colorful paper. Even the un-crafty folk can put this together easily–it's sure to put a smile on mom's face!
Volunteer Together. There are plenty of people in this world who aren't as fortunate as you, especially when it comes to having a loving mother. Share the love you've received over the years with others by volunteering together and bonding in a special way. Check out Volunteermatch.org for local events or organizations looking for support.
Plan Her Favorite Activity. Whether mom enjoys going for long walks on the beach, window shopping downtown or working in her garden, plan time to do the things she loves most. Though you could simply leave mom alone at her favorite activity, she will appreciate the time and effort you give in doing something she loves.
Send Bulbs that Bloom. I love flowers and know mom does too. However, spending money on something that is sure to die within a week never sits well with me. That's why, I am incredibly fond of sending blooming bulb plants instead. At ProFlowers, for instance, you can send a tin pot filled with tulip and hyacinth bulbs that promise to bloom within two to four weeks. This gives your mother plenty of time to enjoy your sweet sentiment.
What are you planning to give or do for your mother this Mother's Day?
Save for the things that matter
Without giving up the things you love
Want your family's financial future to feel safe and secure? Download my Easy Family Budget Worksheet and take control of your family's finances in just 10 minutes!