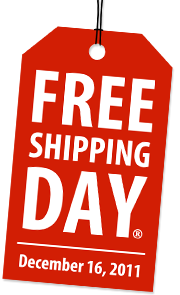 If you didn't get the memo, today is Free Shipping Day: over 2,500 online retailers are offering free shipping with guaranteed delivery by Christmas Eve and most extend the perk with no minimum order plus an added percent off to help last-minute shoppers get gifts in time for the holiday on the cheap.
Big-name retailers like Kohl's, JCPenney, Lands' End, and many more will participate alongside small businesses from Etsy, eBay and Bonanza.com. This means last-minute shoppers can avoid crazed mall crowds and enjoy online shopping perks without racking up expedited delivery debt.
A good strategy will go a long way in nabbing the best deals today, so be sure to research the products you want to purchase and find out who's selling them at the lowest price. Then compare free shipping offers from participating retailers and purchase your coveted item from the one offering the best deal. Don't forget about the little guys – you can find great, one-of-a-kind gifts for friends and family and support small businesses in the process.
Save for the things that matter
Without giving up the things you love
Want your family's financial future to feel safe and secure? Download my Easy Family Budget Worksheet and take control of your family's finances in just 10 minutes!