Disclaimer: I am a Marcus by Goldman Sachs ambassador and I have received financial compensation. However, all thoughts and opinions are my own.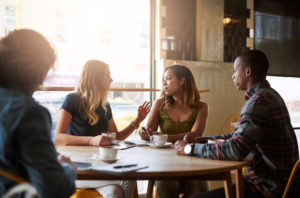 We've all heard warnings about the dangers of credit card debt or even witnessed firsthand as friends or family members struggle to dig themselves out of debt. While this should be enough to guide us on a better financial path, that's not always how life works. Whether it's a series of small, unexpected expenses that snowball over time, or in the lack of savings to cover a life moment like a major appliance breaking, debt can add up fast. Even though it can make you feel hopeless and isolated, you shouldn't feel alone.
The average American holds around two bank-issued credit cards and carries a total balance of just over $5,500 across accounts.1 What's more, the Federal Reserve recently reported that total credit card debt has hit the $1 trillion mark, with household debt levels surpassing the 2008 peak.2 Interestingly, it's not just people with bad credit adding to these statistics. More than one third (38 percent) of creditworthy Americans (credit scores of 660+) are struggling to pay off credit card debt.3
Although millions of people across the country are dealing with the same issue, the stigma associated with personal debt is preventing some of them from opening up and exploring options to help better manage their finances. Considering that we speak openly about other sensitive topics such as weight loss, relationships and family, there's no reason we should be ashamed to discuss financial issues such as debt.
Whether you're ready to open up about your debt or not, don't let it drag you down. Use this guide to help manage your personal debt and start sharing your experiences with others so we can get the conversation started. You might be surprised to learn that others you know are in the exact same situation.
Get organized.
Before you can begin planning your debt repayment approach, you need to get organized. Start by reviewing account details to determine how much you owe on each credit card and note the interest rate for each, along with any late fees. Take the time to call credit card companies to inquire about lower interest rate options, as cardholders with a good history of timely payments may qualify for an APR reduction.
Make a plan.
Achieving your debt repayment goals requires a practical approach. Review your budget to determine a realistic amount you can pay each month toward your various accounts. This may include a series of steps to help you find more room in your current budget to put towards paying down debt, such as cutting back on unnecessary monthly expenses. Tackle the account with the highest interest rate first to save more money over time, but continue paying down the other accounts by making more than the minimum amount that's due.
Consolidate.
77 percent of creditworthy Americans (credit scores of 660+) in credit card debt aren't aware that a personal loan can be used to pay down their credit card debt.4 However, this is a great option for anyone struggling to chip away at a high-interest credit card debt. Instead of wasting money on high interest across multiple accounts, consumers can consolidate their debt into a low-interest personal loan. Marcus by Goldman Sachs®, for example, offers a fixed-rated, no-fee personal loan to people with good credit (those with credit scores that are 660+). Most importantly, Marcus doesn't charge any fees, including sign-up fees, which can be as much as 5% of the loan amount. Plus, you can customize a monthly payment date that works with your schedule.
It's easy to feel embarrassed about debt. Opening up about your financial challenges can help you explore all the options that are available to you, undo the mistakes of the past and replace them with a solid plan for the future.
¹Experian – What Is Your State Of Credit?
²CNBC – Credit card users rack up over $1 trillion in debt
³Marcus by Goldman Sachs Debt Survey, conducted between April 10 and April 17, 2017 among 1,036 American ages 22 an over with a FICO score of 660+, using an e-mail invitation and an online survey.
reference.
4The Marcus by Goldman Sachs Debt Survey was conducted between April 10 and April 17, 2017 among 1,036 American ages 22 an over with a FICO score of 660+, using an e-mail invitation and an online survey.
reference
Save for the things that matter
Without giving up the things you love
Want your family's financial future to feel safe and secure? Download my Easy Family Budget Worksheet and take control of your family's finances in just 10 minutes!