Weddings aren't just expensive for the bride and groom. Guests also have to dish out a lot of money to attend a friend or family member's nuptials. In fact, a survey from The Knot found that wedding party members spent a total of $289 on average for wedding gifts alone. Of course, there are other expenses beyond just gifts like flights and hotel stays, outfits, food while traveling and more.
With wedding season upon us, Andrea recently joined Cheddar to share a few of her favorite ways to save on guest of wedding costs. Click on the image below to find out how you can save without skimping on the fun this wedding season!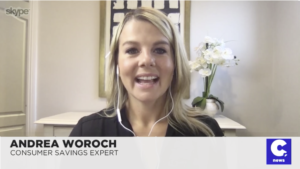 Save for the things that matter
Without giving up the things you love
Want your family's financial future to feel safe and secure? Download my Easy Family Budget Worksheet and take control of your family's finances in just 10 minutes!