As kids everywhere welcome summer with open arms, parents scramble to find affordable ways to keep their children entertained all season long. Unfortunately, many families rely on credit cards this time of year. According to the 2018 Summer Spending Report from Nerdwallet, millions of U.S. families plan to go into debt to pay for various summer expenses. Specifically, 71% of parents with kids under 18 (who are planning to take a vacation) say they'll put an average of $1,019 on their credit card to cover travel costs. Meanwhile, families with school-aged children plan to charge $460 on their credit card for activities such as camp, sports and going to the movies.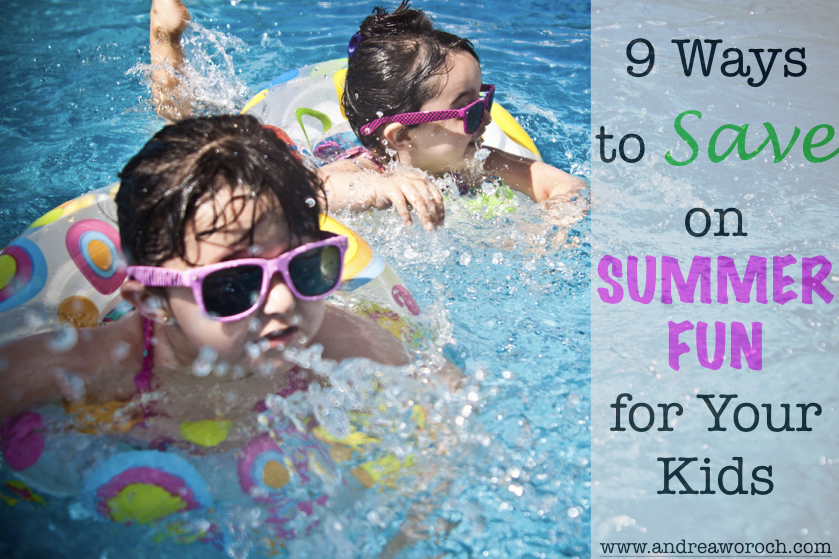 Save your sanity and your money by following these 9 tips to save on summer fun for your kids.
Pick Up an Entertainment Book. The easiest way to access two-for-one and 50% off deals is to buy an entertainment book for your city. You can also pick one up in the city you're visiting to save on food and activity expenses during your vacation.
Review Insider Perks. Some debit and credit cards offer money-saving perks for activities. For example, Bank of America's Museums on Us program provides complimentary access to participating zoos, museums and other educational institutions during specific days over the summer. Otherwise, you may be able to redeem points for gift cards to theme parks and other attractions.
Scope Out the Library. Your local library is a great resource for free fun this summer, offering many community events and family-friendly activities, from story time and reading groups to arts and crafts. Your library may also be a resource for discount passes to museums and national parks that local residents can check out for free.
Craft the Day Away. Crafts are an easy DIY activity you can do at home to keep boredom at bay. To save on puzzles, painting kits, scrapbook activities and more, use coupons to offset your purchases to popular craft stores. You can often find 40% off one regular-priced item from either Michaels or Hobby Lobby just by searching their website. Otherwise, check out Pinterest for inspiration on craft ideas using items around your home.
Score Discount Tickets. Many recreation centers, museums, zoos and botanical gardens offer discount and sometimes free admission on certain days of the week. Simply check out the organization's website for applicable days and times and plan your visit accordingly. This is a great way to provide a enriching activity at little to no cost.
Enjoy Freebies. Bowling centers give back to their communities and offer a safe and fun environment for kids through the Kids Bowl Free Program. Enjoy two free games every day at participating bowling centers by registering at KidsBowlFree.com. Keep your day out really cheap by taking advantage of restaurant's offering free kids' meals which you can find through OutToEatWithKids.com.
Kid-Friendly Flicks for Less. Turn your weekend movie outing to a midweek event! Most movie theaters offer up to 50% off tickets on Monday or Tuesday nights plus deals on concessions. You can also find $1 screenings of popular kid-friendly flicks through Cinemark's and Regal Cinema's summertime movie programs.
Give Your Time. Keep your kids busy with a rewarding experience by giving back to your local community. To find volunteer opportunities nearby, check sites such as VolunteerMatch.org for age-appropriate activities. Older kids may enjoy contributing to a Habitat for Humanity build, while younger kids can brighten the moods of seniors living in a local nursing home.
Snag a Daily Deal. Flash sale sites such as Groupon and LivingSocial offer endless discounts on family-friendly activities. You can often find daily deals to local sporting events, unique activities like fencing and outdoor adventure such as kayaking. Make sure to read the fine print so you know exactly what you're getting with your money and track the expiration date. Don't forget, however, you can still use the voucher for the purchase price if it expires before you can cash in on it.
Save for the things that matter
Without giving up the things you love
Want your family's financial future to feel safe and secure? Download my Easy Family Budget Worksheet and take control of your family's finances in just 10 minutes!