With couples spending over $35,000 to tie the knot, according to a recent survey, getting married is often more stressful than joyous. Setting a budget is a critical step in controlling these expenses, but sticking to it proves to be a big challenge for most partners to be. Determining what you will spend on the venue, food and drink, music, flowers and invitations seems basic, but there are many overlooked expenses and hidden fees that couples must prepare for to avoid debt.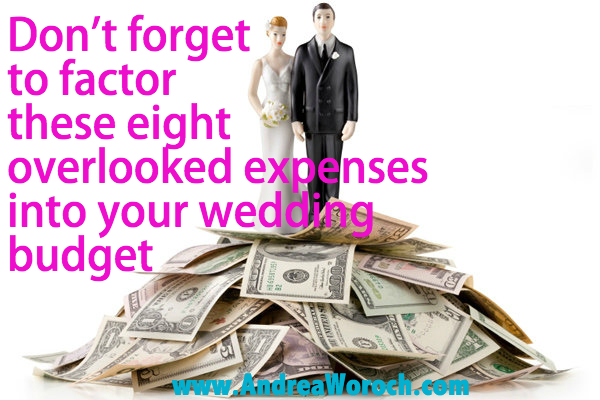 Here are 8 commonly overlooked wedding expenses that brides and grooms need to be aware of.
1. Gratuities.
Proper etiquette suggests that couples should provide a tip of 10 to 20 percent to service providers. This includes a gratuities for a band or DJ, catering staff, wedding planner and makeup artist. Calculate gratuities in advance and factor it into your overall budget. Keep in mind, some venues will build the service charge into your final bill so look out for this to avoid double tipping.
2. Postage.
When discussing the cost of invitations, don't forget to include the price of postage because it adds up quickly! That's because you also have to factor in the cost of stamps for any Save-the-Dates, RSVP cards and Thank You cards. If you're inviting 150 guests, for example, stamps will set you back around $207. Don't forget to include postage for any pre-wedding festivities that require invitations like an engagement party and bridal shower, too. Consider sending digital invites when possible to save on this added expense.
3. Photos.
Even though you've paid the photographer in full, you likely didn't consider the costs of professionally printing favorite images for yourself and family members or ordering an album. This cost can easily add anywhere from a few hundred dollars to thousands to your overall spending. In order to save, print pictures and digital photo albums via Snapfish and search for a promo code online and negotiate a discount on your wedding album by offering to prepay.
4. Taxes & credit card fees.
If you plan to pay with plastic, many vendors will push the swipe fee on to you. Don't forget about taxes either! If you are planning a destination wedding, you may experience a much higher sales tax than you are typically use to. On a large line item, taxes can take a big bite out of your budget so keep these extra expenses in mind when planning your wedding.
5. Bridal accessories.
Brides typically have a dress budget in mind and understand they need some wiggle room for the veil and shoes. But what about the hair clip, clutch, bracelet, sash, garter belt and jewelry? Yep these little accessories could set you back a few hundred dollars. Save on accessories by borrowing from friends who recently tied the knot, shop consignment stores or rent pricey jewelry at a fraction of the cost at renttherunway.com.
6. Seamstress services.
Once a bride picks her dream gown–which typically ends up exceeding her budget–she often forgets that the cost to get it to fit perfectly can be tremendous. Generally, brides are looking at $500 for getting the dress fit. Make sure you search for a seamstress you trust and don't skimp on this cost if you have to sacrifice quality because a botch job can cost you more in the long run.
7. Rush fees.
If you waited to shop for a dress or forgot to renew your passport for that international honeymoon then you are looking at added fees for rush orders. Such fees are a total waste of money so m plan well in advance to avoid this hidden cost!
8. Getting ready party.
Brides and grooms often get ready for their big day with family and friends and it's customary to serve light snacks like breakfast pastries and fruit as well as drinks like coffee, tea and mimosas. Depending on the number of people invited to these pre-parties, the extra cost of food and drink can eat into your already tight budget.
Save for the things that matter
Without giving up the things you love
Want your family's financial future to feel safe and secure? Download my Easy Family Budget Worksheet and take control of your family's finances in just 10 minutes!