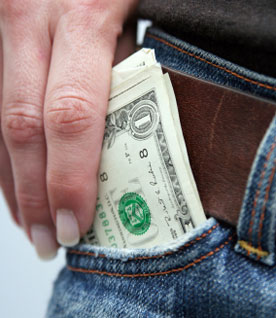 I learned something about DSW's coupon policies this past weekend that helped me save big bucks! I was there with my mom and told her about my previous experience with the store, and how the clerk told me I'd already used my birthday coupon when in truth, I had not. I wasn't able to use the discount then and I assumed I couldn't use it now since it had expired. However, when I made my way to checkout and chatted with the cashier, I learned DSW actually accepts expired coupons AND lets you use three coupons in one transaction. So, I got $5 off for my birthday coupon, $10 off in reward bucks AND a free tote.
This experience prompted me to think about the other ways we can get coupons and discounts. Here's a quick list to help you save without much effort!
1. Use your phone. Mobile coupon usage is on the rise, with close to 40-percent of people using their devices to redeem a coupon. Download a coupon app and try searching for discounts while you're in-store. For a few apps to start with, check out these options recommended by Mint.
2. Have them delivered to you. Some people poo-poo retailer newsletters, but I find them useful in scoring savings. I created a separate email account to give to cashiers and to use during newsletter sign ups. When I'm ready to shop, I log into that email account and look for exclusive offers and current promotions. Easy-peasey!
3. Flip over your receipts and ticket stubs. Coupons can be found just about anywhere these days, including on the back of receipts and ticket stubs. In fact, I found coupons on the back of my boarding pass during a recent trip! Be sure to look at receipts, sports tickets and concert stubs, too.
4. Search as-needed. The simplest way to save is to search for discounts when you need them. The Internet makes this task pretty easy, especially when you're shopping online. You can find online coupons at deal sites like CouponSherpa.com, or by typing in the merchant name plus "coupon code" in any search engine.
5. Read more. Some of the best coupons I've used are pulled from the pages of my favorite magazines. For example, I redeemed a coupon at New York & Co. from Glamour magazine, where I scored $50 work pants for just $10. I also found a $10 off coupon to Sports Authority in one of my fitness magazines.
6. Just ask. During a trip to Kenneth Cole I asked if they had any available discounts and was rewarded with 20-percent off my purchase. How easy is that? I've also been offered a similar discount at checkout in exchange for filling out a short survey. Don't mind if I do!
7. Earn rewards. Apps like ShopKick give you rewards for walking into stores, points that can lead to discounts and free items. Additionally, my credit card offers cash back from rotating retailers and restaurants, resulting in a pleasant surprise on my credit card statement. I'm saving money without even trying!
Save for the things that matter
Without giving up the things you love
Want your family's financial future to feel safe and secure? Download my Easy Family Budget Worksheet and take control of your family's finances in just 10 minutes!