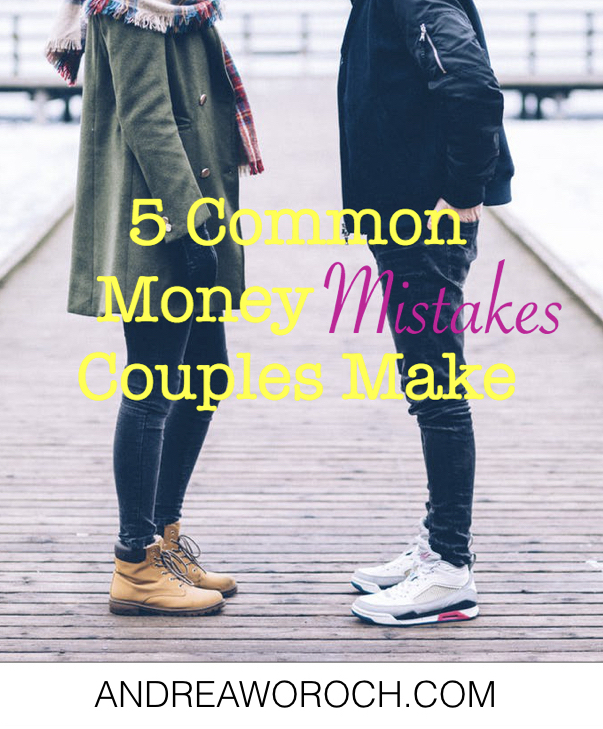 Whether you're married or just dating, you've likely fought over money with your honey at one point or another and you're not alone. A survey by Money Magazine found that 70 percent of couples argued more about finances than household chores, togetherness, sex, snoring and what's for dinner. What's more, respondents cited frivolous purchases, household budgeting and credit card debt as the biggest sources of friction. As the fiscal tension grows thicker and thicker, it often feels like there's no turning back which is why many couples eventually split as a result. In fact, 56 percent of exes say financial strains contributing to their breakup, according to other reports.
If you're having money problems, this doesn't mean your relationship is doomed. You can learn how to avoid and overcome financial bumps and hurdles before they escalate into roadblocks by learning how to identify the missteps you're both making in the first place. Learn how to strike financial harmony with your honey by reviewing the five common money mistakes couples make.
Mistake 1: Avoiding the money talk.
Talking about money isn't the most romantic way to spend time together but, it's important to understand how financially compatible you are with your partner. Throwing it all on the table gives you a chance to identify potential problems before they grow into full on fights. If it feels too soon to start the money talk, know this: couples should start discussing finances when their relationships goes from casual to committed.
The Fix: Get the conversation started by talking about your values when it comes to spending and saving. If your partner turns away from the discussion, make him or her feel comfortable by offering information about yourself first. You can get the dialogue going by asking questions such as what your partner's family's attitude was toward money growing up. This can actually tell you a lot about the person's own financial values. You should also discuss debt and life goals to see if you're on the same page—i.e. do you want to buy a house, have children, pay for their education?
Mistake 2: Neglecting to review credit scores and reports.
If you're ever planning to apply jointly with your partner for a credit card, car loan or mortgage, neglecting to review each other's credit scores and credit report in advance could result in trouble. For instance, you may get denied due to a poor credit report or face higher interest and other fees as a result. This can cause major tension and resentment between you and your partner. Take the time to review your credit scores for free at sites like Credit Karma and review credit reports regularly. Consumers can get access to their credit reports for free from all three credit reporting bureaus every year. It's important to review these reports in detail to make sure all that there are no errors. You'll be surprised to learn there are a growing number of people with inaccuracies on their credit reports. According to the FTC, more than 40 million Americans have something that is incorrect on their credit report and it can have long-standing consequences, staying on a report for up to seven years.
Common credit report errors include things as simple to fix as a wrong name, address or social security number. However, errors can be much more complicated to resolve such as a loan or credit card debt applied to the wrong account, inaccurate payment status, wrong notations for closed accounts (i.e. if the report says a creditor closed your account it could negatively impact how creditors view your creditworthiness), remedied delinquencies not reported as such or multiple delinquent dates on an account which changes the date for which it should be removed from the report. Fixing these errors is critical toward boosting credit health and avoiding any resentment with your beau, but doing so can feel like a complicated and tedious process.
The Fix: Don't put goals like buying a home or taking out a loan on hold. Seek assistance with complicated errors. A consumer advocacy law firm such as Lexington Law focuses on consumer credit report repair, working to make sure their client credit reports are fair, accurate, and substantiated. You can get a free credit repair consultation and apply for different service levels based on your credit situation, ranging from $89.95 to $129.95.
Rather than focusing on credit scores, Lexington Law tackles correcting errors on credit reports through three levels of credit repair to ensure each client's needs are met. You can see the options here.
Mistake 3: Disregarding opposing money attitudes.
If you and your honey have two opposite views toward money, ignoring this issue can lead to lots of fights and resentment down the road. For example, if you save every penny and your partner is willing to drop hundreds of dollars on gadgets or clothes without a second thought, a budget that allows some discretionary spending will help you both stay on track without fighting.
The Fix: Set a spending rule. Depending on your budget, couples should commit to discussing big purchases with their partner in advance based on a predetermined limit, say for any purchase over $100. You can also link your finances using apps like Honeyfi, a free app that helps couples manage money together and also tracks spending and saving in real time.
Mistake 4: Excluding your partner from household finances.
It always seems that one person in a relationship leans toward controlling the finances, whether they're more financially savvy or simply like to crunch numbers. This doesn't mean the other partner should be left in the dark when it comes to household budgets, investments and savings. Regardless of who pays the bills and makes trades in the brokerage accounts, couples should review those accounts and actions together so they both understand their financial situation.
The Fix: Reserve a money date once a month or quarter to review your budget, savings goals and make adjustments as needed based on any new life circumstances such as having a baby or buying a house. This is also a good time to bring up any issues you've been keeping bottled up as regard to your partner's spending or lack of saving over the last month. Instead of blowing up in the heat of the moment, it's much smarter to save the discussion when you've had a chance to cool down. This gives you the opportunity to address the problem respectfully and productively.
Mistake 5: Buying too much house.
When couples combine incomes, the increased purchasing power tempts them to shop for the priciest house they can afford. Unfortunately, this locks them into a lifestyle that doesn't offer much flexibility and can cause tension when budgets grow tighter. This could also put you in a tight spot should you need extra cash to cover an emergency arise like a car accident or medical procedure, or if one of you loses your job.
The Fix: Aim for a monthly payment around 25 percent of your combined income. This will give you room for future financial needs and reaching your goals. Use a free mortgage calculator such as mortgagecalculator.org to get a quick estimate for what your monthly mortgage payment will be with taxes, insurance, PMI, HOA fees and more.
This post was sponsored by Lexington Law Firm. All views and opinions expressed are my own.
Save for the things that matter
Without giving up the things you love
Want your family's financial future to feel safe and secure? Download my Easy Family Budget Worksheet and take control of your family's finances in just 10 minutes!