Adopting an eco-friendly lifestyle doesn't mean you have to give up your frugal ways. In fact, being kind to Mother Earth and saving money go hand in hand. Not sure how? Check out these 12 ways to go green and cut spending just in time for Earth Day on April 22.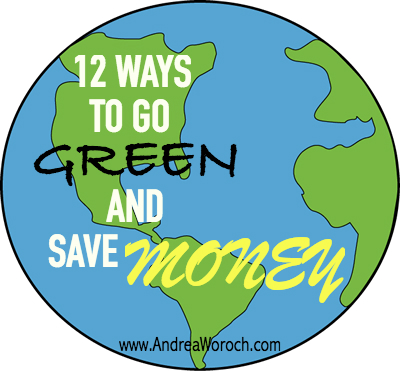 1. Reduce food waste by meal planning.
According to the National Resources Defense Council, 40% of food in the U.S. gets tossed in the trash. The most effective way to avoid food waste is to meal plan which ensures you carefully purchase only those ingredients you know you will consume. Look for recipes that use overlapping ingredients to further reduce your food waste and save on groceries. Use the Fresh20 meal planning tool for help-they offer weekly meal plans using just 20-simple ingredients.
2. Slay energy vampires.
All those gadgets you have plugged in around your home continue to use energy even in the off mode. In order to completely cut the power consumption from home energy vampires such as your TV, computer and printer, use a power strip. This will save you 5% on your electricity bill.
3. Start swapping.
Sites like Swapdom.com enable you to pay for items you want with items you already own and no longer use. If you're looking for a new leather handbag, for example, browse the site's many options for one that fits your style. Then offer up items you no longer want. The site takes care of the complicated process of making an equitable trade of your goods for the handbag.
4. Repurpose household items.
Instead of running out to buy something new and wasting money and resources, think about ways you can repurpose household items you already own. For example, a mason jar can keep your daughter's hair ties and headbands tidy while a shower caddy is the perfect place to store paint brushes and crayons for art projects. Old towels can be turned into rags for cleaning while the inner liner of a cereal box can be used for sandwich bags instead of wasting money on ziplock bags.
5. Buy second hand online.
Shopping second-hand isn't what it used to be; you're no longer relegated to the poorly-organized shelves of your local thrift shop. Websites like TheRealReal offer previously-owned designer garments from brands like Chanel and Tory Burch. And apps like Poshmark allow you to shop the closets of other fashion-minded consumers for huge savings.
6. Sign up for the "no solicitation" registry.
Avoid getting credit card offers and other ads to reduce paper clutter and save trees by signing up for the no solicitation registry. You can still access sales from favorite stores by using apps like Flipp which let you compare sales and deals from your phone.
7. Freeze your gym membership.
You can save up to 75% (or more) per month on your gym membership by opting to freeze it and exercising outdoors during warm weather months. Go for a run, hike or bike ride to get in shape for free. If you prefer a structured routine, use the Workout Trainer app to access thousands of free workouts complete with timed step-by-step audio and video instructions to help you get into shape.
8. Send an e-gift certificate for special occasions.
Not only are e-gift cards super convenient, you're also using less plastic resources and reducing fuel associated with shipping. You can even save money by purchasing discount gift cards online to send to the gift recipients inbox.
9. Forget paper invites, send a text instead.
Save on postage and printing while reducing paper by using apps like HobNob to create and send invitations via text for upcoming celebrations. The app provides fully-customizable and stunning templates, and allows for guests to RSVP quickly and easily.
10. Plan a virtual business meeting.
With access to programs like Skype and GotoMeeting, you don't have to travel far or spend a lot of money on gas or airfare to discuss important business dealings. Virtual business meetings will get the job done, reduce your carbon footprint and save you big bucks.
11. Switch out light bulbs.
Switching from incandescent to compact fluorescent light bulbs is one of the easiest ways to reduce energy use in your home and save money on your household bills. You're looking at saving $140 per year after replacing just ten light bulbs.
12. Eliminate paper clutter with apps for coupons.
Reduce your paper trail by opting to use digital coupons instead of paper clippings. Check out Target's Cartwheel app for in-store deals, CVS app for reward member discounts and Yowza for grocery savings.
Save for the things that matter
Without giving up the things you love
Want your family's financial future to feel safe and secure? Download my Easy Family Budget Worksheet and take control of your family's finances in just 10 minutes!