Turn Clutter into Cash
You're probably not excited to clean, reorganize and declutter, but knowing you can make money off any unused goods you have laying around your home will motivate you to get your spring cleaning done now. On FOX & Friends, I explained how to turn unwanted goods into cash and which items to sell online.
Below are top websites for selling your clutter, plus tips on how to determine value and maximize sales.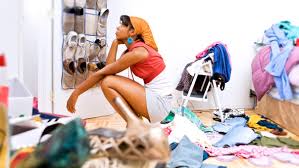 Old Gadgets: These days homes are filled with multiple gadgets from smartphones to Tablets, eReaders and video consoles and games. If you have old electronics laying around, sell them online at Gazelle.com or BuyMyTronics. EXAMPLE: you can get $70 for an iPhone 5C 8GB. Otherwise, trade them in at Target or Amazon for a gift card which can go toward a necessary new purchase you've been saving up for! 
Used Clothes: The average American throws away 65 pounds of clothing per year. You don't have to host a garage sale or drive around town looking for a consignment shop to unload unwanted clothing and accessories. Check out ThredUp.com, ThreadFlip and RecycleYourFashions.com for selling your threads. You can then collect cash when the items sell or use it as credit towards gently-used threads for you and your kids. Plus, find coupon codes to offset the purchase like 20% off at ThredUp.com at CouponSherpa.com.
Unwanted Gift Cards: $300 in gift cards go unused every year. Don't waste yours! If you received a gift card over that you don't plan to use, sell it at sites like GiftCardGranny.com and Gift Card Castle for up to 92% of the value of that card in cash. Use the money for more important things like paying down debt.
Daily Deal Vouchers: 30% of Groupons are wasted every year. How many times have you clicked "purchase" on that Groupon or LivingSocial deal and soon after regretted or simply forgot about it? Don't let it go to waste! Sell it at CoupRecoup.com. 
Wedding Dress & Decor: The average cost for a wedding dress is $1,505, according to The Bridal Association of America, and the average bridesmaid dress is $150 per mint.com estimates. You're likely to never wear that bridesmaid or wedding dress again, so sell it online. Get value estimates using the calculator on PreOwnedWeddingDress.com and enter the dress designer, style, date purchase, price paid, and condition then list it at sites like BravoBride.com. You can post bridesmaid dresses at bridesmaidtrade.com and even sell wedding decor like table numbers and vases at WeddingBee.com.
College Textbooks: According to the College Board, average college students spend $1,200 on textbooks and supplies. You're out of school, hooray! Don't dump those books in the trash though. You can sell them to other students via eBay or use speciality sites like Cash4Books.com and Booscouter.com. Check out Barnes and Nobles through their Text Book Buy Back – https://www.barnesandnoble.com/textbookbuyback/
Jewelry: If you have boyfriend/girlfriend or ended an engagement, you can sell those jeweled gifts at Exboyfriendjewelry.com and IDONOWIDONT.com
Kid's Toys and Small Kitchen Appliances – Amazon Marketplace is a great site to sell gently-used kids toys and even small appliances like blenders. There's 99-cent per item listing fee but you will have a large consumer base to sell to. Otherwise, check out Swap.com for selling your children's outgrown toys and clothing. Craigslist is a top spot to post large appliances and furniture that are hard to ship.
How to Determine Value & Price:
Research item's retail value brand new or find similar item to compare prices.

Check the item's sale value, used. Check Amazon, Craigslist and eBay and note what prices auctions closed at.

Set the price by assessing the item's condition compared to the sale listings you've seen. Don't shoot for retail price unless your item is rare.

Take good pictures! A quality picture means a high selling price. Find an uncluttered spot in your house with good lighting and take several images from different angles showing tags and original packaging if available.

Use key words when listing the item that potential buyers might type in to search including the manufacturer, designer, brand, item type, condition, size and color. 

When using auction sites like eBay, list during Prime Time from 9-11 pm EST. This dictates when the auction will close and when you're likely to have the most bidders and higher selling prices.

Lower shipping fees or list free shipping on high end/expensive items. The lower your postage, the more bidders you will have.
Once you make money off your clutter, consider how to use the funds to get financially fit like starting an emergency fund or paying down debt.
Save for the things that matter
Without giving up the things you love
Want your family's financial future to feel safe and secure? Download my Easy Family Budget Worksheet and take control of your family's finances in just 10 minutes!