Did you know, 1 in 5 divorces are related to money conflicts? It's so unfortunate to know that many marriages unravel because of financial fights. The good news is, knowing how to talk about money in an open and positive way and how to deal with debt can help you overcome many relationship hurdles.
Andrea joined Cheddar to talk about how couples can approach the sensitive topic of money matters and how to talk about debt and get on the same financial page.
Some of her tips include:
Ask your partner what his or her family's attitude toward money growing up as this will help you understand what their current views and values toward spending are as an adult.
Realize that debt can be associated with feeling of shame so approach it in a positive and understanding way. Remember, debt doesn't mean your partner has a spending problem. A series of life events and underemployment could have caused him or her to take on debt. But you can support your honey by offering guidance and help.
Discuss your goals and try to get on the same page about where you want to be in a year, 3 years, 5 years…. retirement… This way you can make a plan to work on together which makes it more rewarding to stick to a budget.
Consider keeping separate bank accounts for your own fun money. As long as you contribute to your shared expenses based on the percentage you decide together as well as various savings, you should be able to spend your extra money as you please without any judgement. This will avoid potential nagging fights!
Click on the image below to watch the video and hear Andreas' tips in action.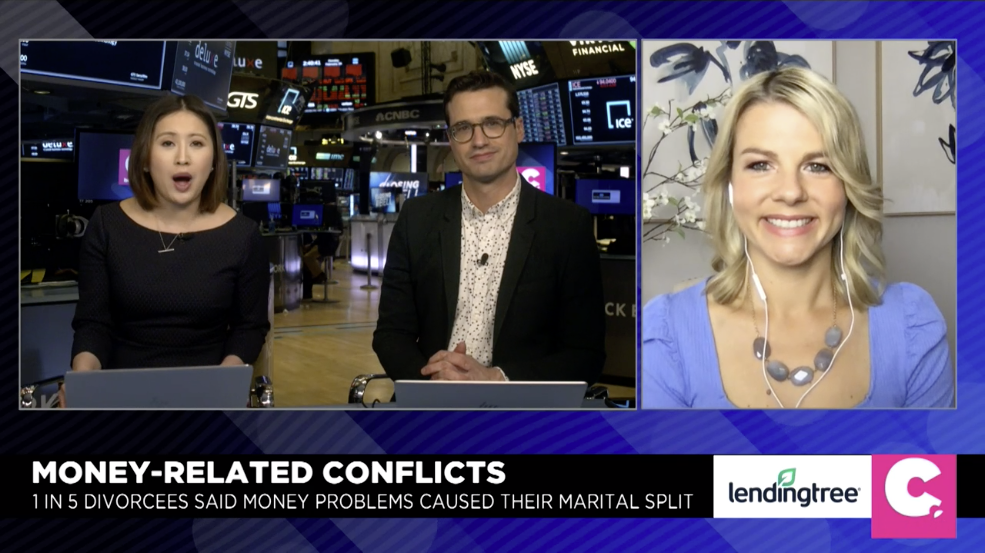 Andrea is not sponsored by Lending Tree.
Save for the things that matter
Without giving up the things you love
Want your family's financial future to feel safe and secure? Download my Easy Family Budget Worksheet and take control of your family's finances in just 10 minutes!